Mark Vinegar is organising a MOOC on Mobile Learning on Blackboard's Coursesites-platform. Winegar is an independent mobile learning consultant and podcaster with previous careers as a software engineer and professor of computer science.
The course description is:
Teachers can learn how to infuse their teaching with new mobile learning strategies by participating in the free Mobile Learning MOOC at Coursesites by Blackboard beginning August 27, 2012.

This new learning experience provides 16 weeks of training on topics ranging from authentic assessment to video podcasting. Learning is self-paced with rich multimedia and readings available 24X7. Participants can share their thoughts with other in forums and attend weekly live discussions.
The course is a MOOC, so it is free to participate, but you can also view the course as a guest. You can access the course via coursesites.com and after registration via Blackboard Mobile Learn App (institute is CourseSites).


Vandaag heb ik deelgenomen aan de eerste live webinar van DIV .. if you dare. Het onderwerp was OpenData en de opname vonden plaats in het TU Delft New Media Centre.
Samen met Iens Boswijk van iens.nl, Theo Klarenbeek van de Belastingdienst, Maarten Louman van Qiy en onderleiding van Eppo van Nispen van CPNB (en voormalig directeur DOK) hebben wij bijna een uur gesproken over Open Data.
Eerst was er een korte introductieronde, waarna Eppo een inleiding verzorgde en vervolgens mochten wij elk 5 minuten een "lightning talk" houden. Hieronder mijn slides daarvoor:
De tijd vloog voorbij, gelukkig is de hele webinar nog terug te kijken in Silverlight of zonder Silverlight (net beschikbaar voor Collegerama).

Last month there was a special edition of the Journal Distance Education about OER. After a lot of online comments the publisher Taylor & Fancis opened the issue to the public, so now everyone can read the articles.
The articles in the journal are:
Fostering social inclusion through open educational resources (OER)
by Gráinne Conole
A review of the role of national policy and institutional mission in European distance teaching universities with respect to widening participation in higher education study through open educational resources
by Andy Lane
Opening up Down Under: the role of open educational resources in promoting social inclusion in Australia
by Carina Bossu, David Bull & Mark Brown
The OER mix in higher education: purpose, process, product, and policy
by Samuel Nikoi & Alejandro Armellini
Equity considerations for open educational resources in the glocalization of education
by Julie Willems & Carina Bossu
Open educational resources: education for the world?
by Thomas Richter & Maggie McPherson
Open educational resources in support of science learning: tools for inquiry and observation
by Eileen Scanlon
Making a difference—inclusive learning and teaching in higher education through open educational resources
by Christine Hockings, Paul Brett & Mat Terentjevs
The role of postgraduate students in co-authoring open educational resources to promote social inclusion: a case study at the University of Cape Town
by Cheryl Hodgkinson-Williams & Michael Paskevicius
Non-government distance education funding: the need for equity in Australian schooling
by Terry Harding
Politics, practices, and possibilities of open educational resources
by Liam Phelan
OER perspectives: emerging issues for universities
by Don Olcott Jr.

Yesterday I saw some tweets about a 'Mechanical MOOC' and I really had no idea what to expect. My first association was with Amazon's Mechanical turk, but I couldn't see that in regards to a MOOC.
In the press release it states:
The mechanical MOOC is an attempt to leverage the power of the open Web, by loosely joining together a set of independent building blocks.
This so-called "mechanical" MOOC will combine the offerings of three leading open education projects – MIT OpenCourseWare, OpenStudy and Codecademy – loosely linked together by an e-mail list managed by Peer 2 Peer University
The first course will be "introductory Python Programming". The course will be based on MIT OpenCourseWare's 6.189 A Gentle Introduction to Python class. The class is scheduled to start mid-October, 2012, with initial enrollment available starting August 21 at http://mechanicalmooc.org.
On the website of P2PU there is also a nice post about this new concept:
The Mechanical MOOC is a man (or machine) of mystery. It sends out emails to thousands of small groups pointing them to lectures, tutorials, and exercises – but also encourages learners to think for themselves and share additional resources with each other. It provides a map to learning Python, but doesn't discourage folks from careening off the beaten path. This is the open web, after all.
If you read this description it certainly sounds a little like the concept of the mechnical turk. Interesting is if they will use this service from Amazon. I will probably hear more about this when I talk again to Philip and Steve.

Today I saw this post of Lisa Lane about three kinds of MOOCs: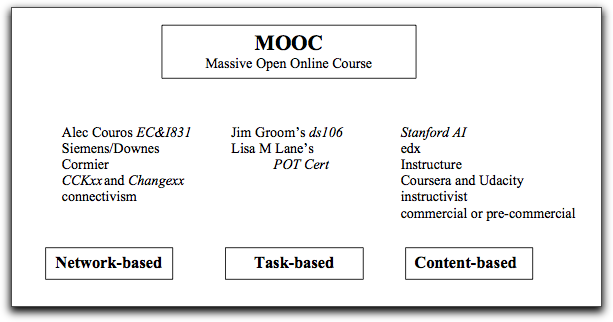 I think the distinction is a good one and can help us all in the defining a MOOC. Although I'm not really convinced yet of the Task-based type. In some of the task-based examples I also see network-based characteristics.


Volgende week donderdag neem ik deel aan een webinar van "DIV...if your dare".
Live discussie vanuit de TU Delft over de veranderende rol van data en nieuwe business modellen.
Eppo van Nispen (directeur CPNB) neemt u mee in een spannende nieuwe (data)wereld aan de hand van een aantal sprekende voorbeelden.

We zien dat mensen het heft in eigen hand gaan nemen (Qiy),
we zien synergie ontstaan door het koppelen van administraties (Belastingdienst),
we zien hoe ons onderwijs radicaal verandert door de beschikbaarheid van online kennis (Opencourseware)
en we zien hoe informatie tot stand komt via het on-line delen van ervaringen (IENS).
Klik hier voor het volledige programma.

Een nieuw initiatief van de makers van DIV… If you dare! Het netwerk van informatieprofessionals die toe zijn aan… iets nieuws.

Kijk en luister mee op donderdag 23 augustus 14.00 – 14.45u via www.divifudare.nl.
De webinar wordt live uitgezonden vanuit de studio van de TU Delft via het collegerama-systeem. Ik ben zeer benieuwd hoe dit gaat. Ik heb wel eerder webinars gegeven, maar dat was dan via mijn eigen pc en niet in een studio.

Interesting TEDtalk of Daphne Koller. She is professor at Stanford and started Coursera:
Daphne Koller is enticing top universities to put their most intriguing courses online for free -- not just as a service, but as a way to research how people learn. Each keystroke, comprehension quiz, peer-to-peer forum discussion and self-graded assignment builds an unprecedented pool of data on how knowledge is processed and, most importantly, absorbed.
Tony Bates has written a good and critical blog post about this video.

On 19 and 20 September 2012 OpenCourseWare Europe is organising a Workshop and Training on Open Content licensing in Barcelona.
The main goal of this two-day event is to clarify legal issues with regard to regulations that govern the ownership and use, reuse or modification of educational resources, which are produced at Higher Education Institutions in Europe.  A direct focus is placed upon copyright. Participants will learn about the meaning of the open content licensing framework for OpenCourseWare & Open Educational Resources. They will gain practical skills on how to use such frameworks, through the utilization of Creative Commons licenses, to license and disseminate their own content or to use, reuse or modify educational content produced elsewhere.
The workshop is open and free to attend, but you have to pay for your own travel and accomodation costs.
More information is on the website of OpenCourseWare Europe.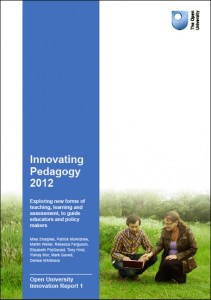 The Open University UK started a serie reports about innovating pedagogy:
The series of reports explores new forms of teaching, learning and assessment for an interactive world, to guide teachers and policy makers in productive innovation.
The first report deals with 10 innovations that are already here, but are not used on a large scale. The 10 innovations they discuss are:
New pedagogy for e-books
Publisher-led short courses
Assessment for learning
Badges to accredit learning
MOOCs
Rebirth of academic publishing
Seamless learning
Learning analytics
Personal inquiry learning
Rhizomatic learning
Personally I like the term "seamless learning". This is connecting learning across settings, technologies and activities:
Seamless learning is when a person experiences a continuity of learning across a combination of locations, times, technologies or social settings. Such learning may be intentional, such as when a learning activity starts in a classroom then continues through an informal discussion with colleagues, or online at home. It can also be accidental, for example when an interesting piece of information from a newspaper or television programme sparks a conversation with friends. Seamless learning can be a collective or an individual process. It can extend across time and locations, offer ubiquitous access to learning resources, encompass physical and digital worlds, engage multiple types of device, and integrate different approaches to teaching and learning.
The report is easy to read and also for me it included new and interesting information. Download the report here.
Via: Wilfred Rubens

Naar aanleiding van het artikel Massive MOOC Dropouts: Are We Really Okay With That? onderstond er een discussie met Robert en Wilfred over of er wel sprake is van dropouts. Volgens Robert kan er alleen sprake zijn van drop-out bij een formeel systeem:
@wfvanvalkenburg @wrubens Is misschien een definitiekwestie. Voor mij is een dropout er alleen bij formele systemen

— Robert Schuwer (@fagottissimo) July 24, 2012
Ik ben het daarmee niet eens. Er is wel degelijk een verschil tussen een formele cursus en een MOOC. Bij een formele cursus is het doel duidelijk: de cursus halen met een voldoende (in VS: met een zo hoog mogelijk cijfer).
Bij een MOOC is dit per 'student' verschillend. Elke student heeft zijn eigen reden en motivatie om een cursus te volgen. Dit betekent ook dat het doel anders kan zijn. Op het moment dat een student zijn doel heeft bereikt, zal hij afhaken uit de cursus. In formele zin heb je hier te maken met een drop-out, maar die student zal zich niet een drop-out voelen. Hij heeft zijn doel bereikt.
Om de drop-out rate van een MOOC goed te kunnen vergelijken met een formele cursus, zou je de studenten van te voren moeten vragen naar hun doel en achteraf bepalen of ze hun doel hebben gehaald. Ik verwacht wel dat de dropout rate bij een MOOC hoger zal zijn, omdat het natuurlijk vrijblijvend is.
Learning Analytics kan hier een goede bijdrage aan leveren om de voortgang van de student op zijn eigen doelen inzichtelijk te maken. Zodat het aantal dropout niet hoog wordt.