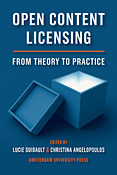 Recently there is a new book about Open Content Licensing published by Amsterdam University Press.
Authors: Lucie Guibault, Christina Angelopoulos
Title: Open Content Licensing: From Theory to Practise
ISBN: 978 90 8964 307 0
License: Creative Commons License CC BY NC
The summary says:
"To promote the use of open content licenses, it is important to better understand the theoretical underpinnings of these licenses, as well as to gain insight into the practical advantages and inconveniences of their use. Moreover, given that the most widely used licenses, such as the GPL and the Creative Commons licenses, originate from the United States, it is also important to examine their validity and applicability from a European law perspective. This book assembles chapters written by renowned European scholars on a number of selected issues relating to open content licensing. It offers a comprehensive and objective study of the principles of open content from a European intellectual property law perspective and of their possible implementation in practice. To date, no other in-depth legal analysis has been carried out in Europe on the capacity of the open content licensing model – as a whole – to serve as an enabling factor in the dissemination and use of information."
Each chapter is written by different experts. You can download the book as PDF or order the book.