TU Delft offers certificate of participation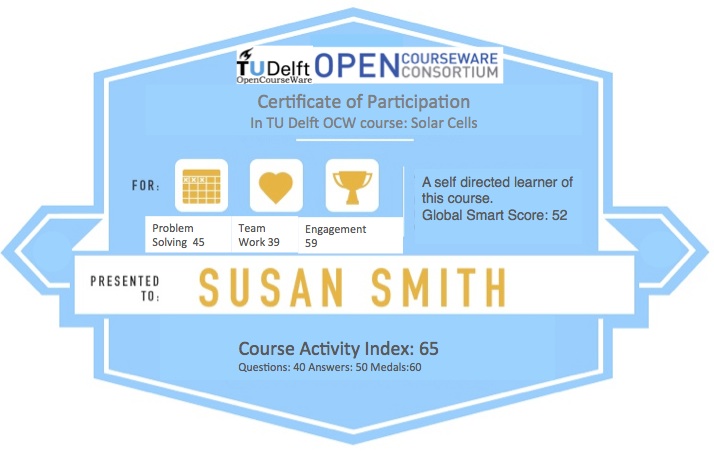 Yesterday was the official announcement of a new initiative of the OpenCourseWare Consortium and OpenStudy:
The OCW Consortium has partnered with OpenStudy to offer learners a Certificate of Participation through use of members' OCW. Learners join an online study group formed around open courses, register so their learning can be tracked, and start studying the subject using OCW. As learners interact with others and master the content, they begin to increase their SmartScore, which is an individualized, data-driven evaluation of teamwork, problem solving and engagement – the kinds of skills employers most often look for, but have a hard time measuring from traditional education records. Once learners achieve a certain SmartScore for the course, they are eligible to print a Certificate of Participation from OpenStudy and the OCW Consortium. Courses for this pilot are from TU Delft, The University of Notre Dame, The University of California, Irvine, and The Universidad Politécnica Madrid.
For the TU Delft we have two courses available for this:
The courses are free, but you may earn a Certificate of Participation from the OpenCourseWare Consortium to recognize your efforts. This Certificate will document (i) your participation in the course, (ii) your progress through the course and (iii) three important skills that employers want to see documented: teamwork, engagement and problem solving skills. Whether you are a high school or college student or working adult looking to advance, earn this Certificate of Participation to get an edge:
Register for the Certificate below (Cost : $30)
Ask and answer questions on each topic in the course study group.
Engage for a minimum of 4 weeks on the OpenStudy study group for this course. You will be eligible for the certificate.
I have heard that the first students already have signed up for some of the courses. We see this as an experiment to offer extra services to our users.
ps. It is not a MOOC