Report on OER in US Higher Education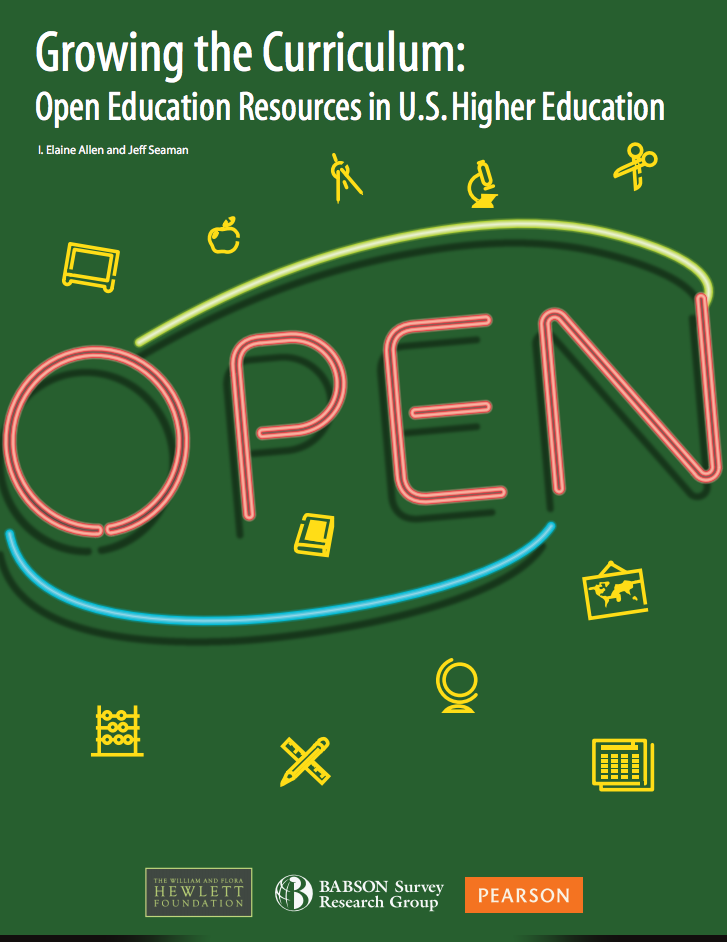 The Babson Survey Research Group released a report on OER usage in US higher education, "Growing the Curriculum: Open Education Resources in U.S. Higher Education". The report is based on three different surveys among faculty and academic leaders, and it is heavy on attitudinal information – are you aware of OER, do you plan to use OER, what are the reasons to choose OER, what are the barriers to adoption, etc.
The key findings from the executive summary:
Most academic leaders are at least somewhat aware of open education resources (OER) and slightly over half list themselves as 'Aware' or 'Very aware.'
Only one-half of all chief academic officers report that any of the courses at their institution currently use OER materials.
In 2011, most surveyed academic leaders report that open education resources will have value for their campus; 57 percent agree that they have value and less than five percent disagree.
Nearly two-thirds of all chief academic officers agree that open education resources have the potential to reduce costs for their institution.
There is wide agreement among academic leaders that open education resources will save time in the development of new courses.
Chief academic officers at over a majority of institutions reported that individual faculty developing courses, faculty committees, programs or divisions, and the administration all have a role in a decision to adopt open education resources.
Only two groups, individual faculty members and the administration, are seen as having the primary decision responsibility on the adoption of open education resources.
Over one-half of academic leaders agree or strongly agree that open education resources would be more useful if there was a single clearinghouse.
Among faculty, cost (88% reporting as important or very important) and ease of use (86%) are most important for selecting online resources.
The time and effort to find and evaluate are consistently listed as the most important barriers by faculty to the adoption of open education resources.
Older faculty have a greater level of concern with all potential barriers to open education resource adoption than do younger faculty.
Female faculty members report higher levels of concern for all potential open education resource adoption barriers examined.
Phil Hill made some good comments about the report.