TU Delft joins EdX Consortium

Today Delft University of Technology announced that we will join the EdX Consortium. In January our President announced at the Dies that we would start with MOOCs and that we would join an international consortium.
We have talked and negotiated with Coursera and EdX. Both organisations wanted us to join them. So we had the luxury to make our own decision on which platform to join. After some considerations we decided to join EdX.
Why MOOCs?
Delft is already very active in the field of Open Education with our OpenCourseWare programme (with more than 100 courses) and with Anka Mulder as President of the OpenCourseWare Consortium.
We believe that the next step for education is online and that we don't want to wait to see what happens. This is also the reason we have decided to start with 3 pilots for Online Master programmes (accredited).
MOOCs are an interesting step into this direction and we are especially very eager to learn from these MOOCs to improve our campus education.
All our activities in this field (OpenCourseWare, MOOCs and Online Distance Education) are based on our campus education and should improve our campus education.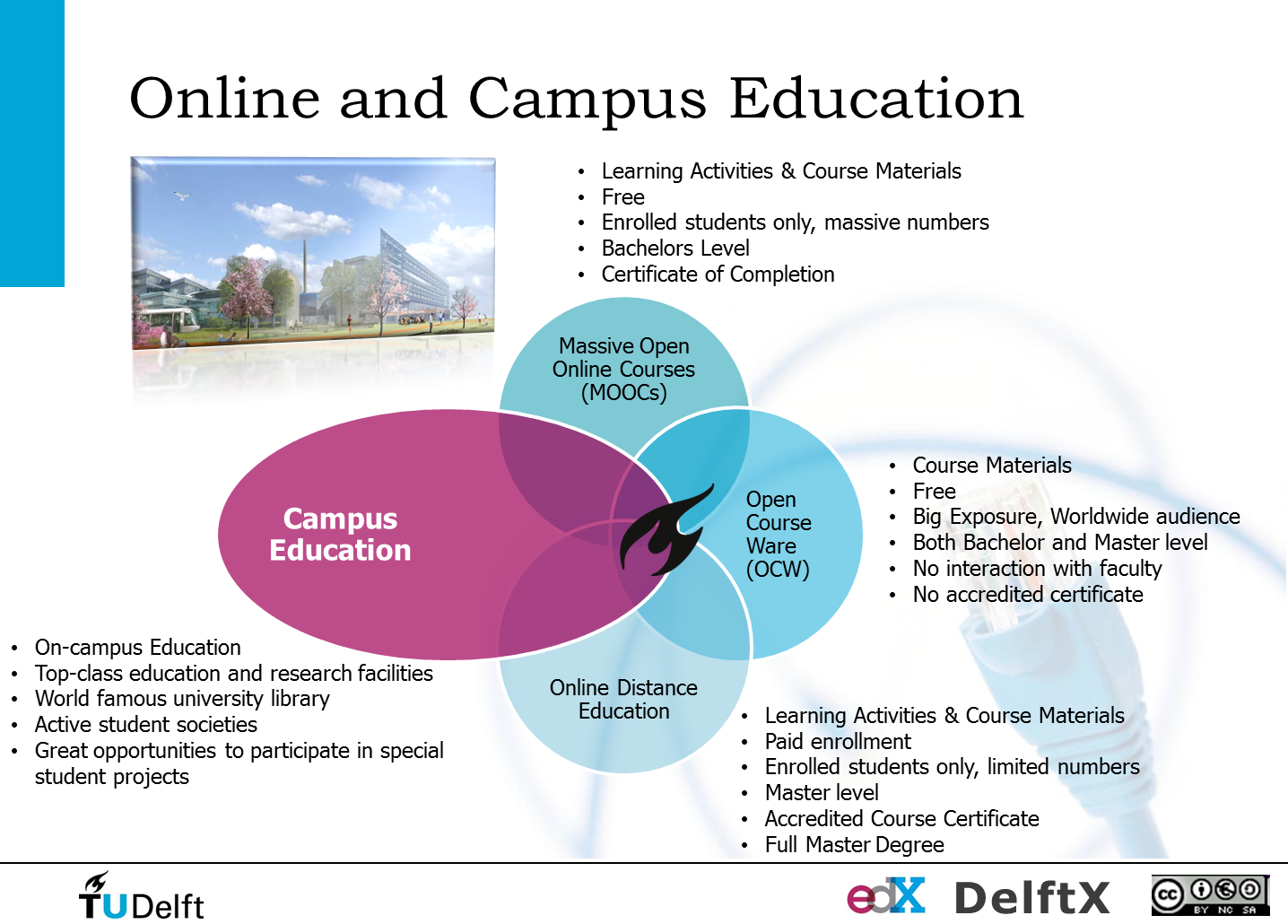 Why EdX?
EdX has chosen a strategy of quality instead of quantity like Coursera. It is a consortium of top universities around the world. Since today the consortium has 12 members:
From the USA: MIT, Harvard, Berkeley, University of Texas System, Wellesley, Georgetown University and since today Rice University
From Canada: McGill University and the University of Toronto
From Australia: Australian National University
From Europe: Ecole Polytechnique Federale de Lausanne and TU Delft
The focus of the Consortium is very much on improving campus education with research and innovation in education. Because we don't know the business model of MOOC we feel more comfortable with a not-for-profit organisation such as EdX.
But most important for us it fits with the open strategy of Delft with an open-source platform and open-licensed content. Delft will publish the MOOCs with a open-license (CC-BY-NC-SA).
DelftX Courses
Our MOOCs will be branded as DelftX Courses and the first two will start in September:
Prof Jules van Lier - Introduction to water treatment
Dr Arno Smets - Solar Energy
In February 2014 the second two will start:
Prof Jacco Hoekstra - Introduction to Aerospace Engineering
The fourth course is to be announced.
These MOOCs are good examples of TU Delft's expertise. There are also enthusiastic staff members involved to create good moocs. We also think that these moocs are interesting for a large audience. The courses are Bachelor level and we don't require prerequisites, although it certainly helps to have a basic understanding of maths and physics.
The courses will be based on the regular campus courses and will have a duration of 8 to 10 weeks with an estimated effort of 9-10 hours a week. If you pass the course you will receive a certificate of mastery from EdX and DelftX.
The enrolment for the DelftX courses will start in March.
Links: