What Reviews Reveal About Online Learning

What do course reviews suggest about what it takes to create a compelling online learning experience for students? CourseTalk, a "Yelp for MOOCs" company founded in 2012, has tallied more than 74,000 user ratings for over 7,500 courses from 46 providers to get a glimpse of what students are saying.
CourseTalk has made an analysis (PDF) of all reviewed courses in its catalog to uncover characteristics shared by top-rated courses, characteristics shared by low-rated courses, and other insights into online learning.
Interesting is their overview of refraining reviews: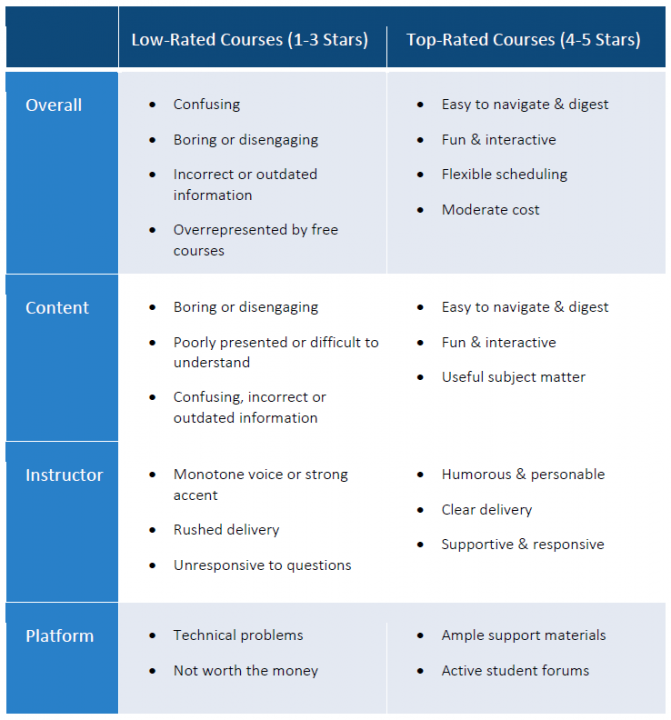 Their overal findings are:
Reviews are predominantly positive
Reviewers complete courses
Reviewers who drop courses still give nearly 4 stars
Users are willing to pay for good courses
Classes with more reviews receive higher ratings
Ratings are not affected by course workload
A majority of CourseTalk users have experience in the subject they're studying
Their conclusions are:
Providers should embrace reviews from unbiased, third-party sites as a way of promoting improved course selection and engagement.
They should not be afraid to charge for quality content.
Providers should make courses experiences clear, easy to navigate, fun, interactive, supportive and flexible.
They should focus on short course modules, but not hesitate to challenge students with heavier workloads where appropriate.
EdX is also using CourseTalk as review system. Reviews of TU Delft's courses are available here.
Via: EdSurge