Defining Blended Learning
The world of education is changing in the current internet age. That means that definitions of education are also needs to be updated. A definition that is commonly used is the one of the Sloan Consortium (2007) (nowadys known as Online Learning Consortium):
Course that blends online and face-to-face delivery. substantial proportion (30 to 79%) of the content is delivered online, typically uses online discussions, and typically has some face-to-face meetings.
Below is the full overview of their definitions from traditional to online education.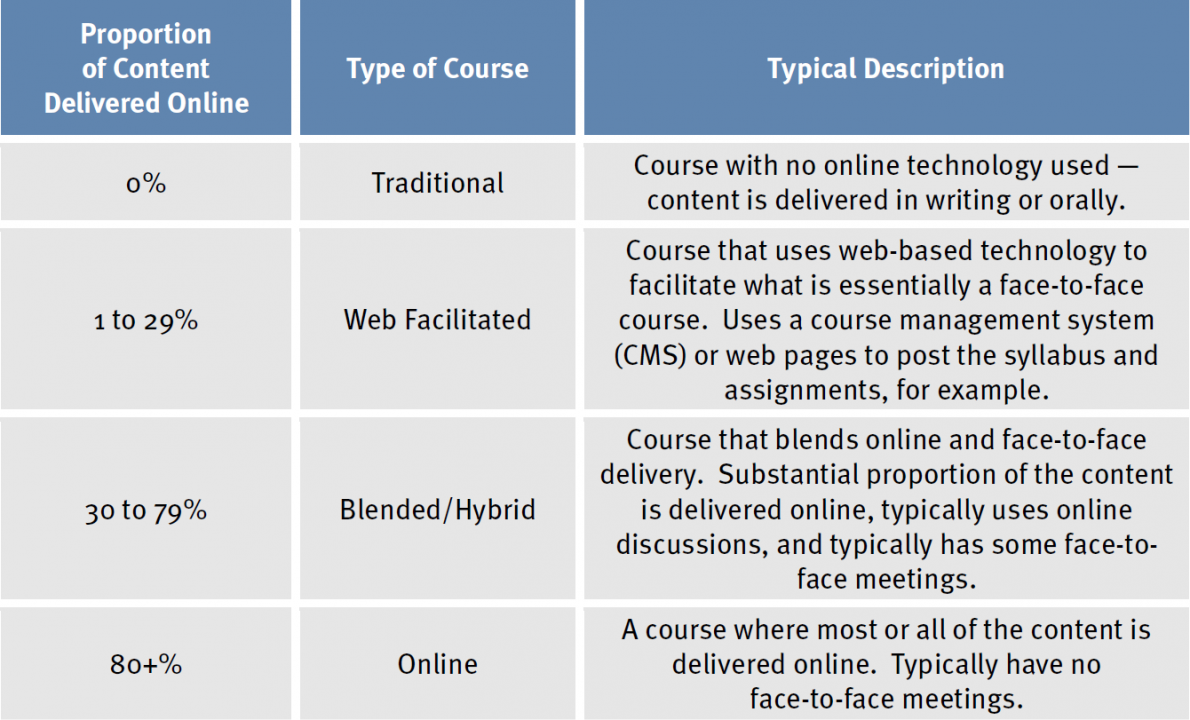 Defining blended within the TU Delft
Within the TU Delft we noticed that this definition was not working for the Extension School programme. there seemed two different kind of blended education:
traditional education adopted to blended learning
online learning adopted to blended learning
Both are called 'blended learning', but they were completely different and more important there seems to be a path from traditional education -> blended learning -> online learning. But in practice that path didn't lead to the online learning we want to offer (off course there are exceptions).
So we defined blended for the Extension School with a focus on the reuse of (open) online resources:
Blended education involves embedding online products, such as MOOCs, online courses or open educational resources in your campus course.
OLC Updated E-learning Definitions
Recently the Online Learning Consortium published an updated list of definitions. They list 7 types:
Classroom Course – Course activity is organized around scheduled class meetings.
Synchronous Distributed Course—Web-based technologies are used to extend classroom lectures and other activities to students at remote sites in real time.
Web-Enhanced Course – Online course activity complements class sessions without reducing the number of required class meetings
Blended (also called Hybrid) Classroom Course – Online activity is mixed with classroom meetings, replacing a significant percentage, but not all required face-to-face instructional activities.
Blended (also called Hybrid) Online Course – Most course activity is done online, but there are some required face-to-face instructional activities, such as lectures, discussions, labs, or other in-person learning activities.
Online Course – All course activity is done online; there are no required face-to-face sessions within the course and no requirements for on-campus activity.
Flexible Mode Course – Offers multiple delivery modes so that students can choose which delivery mode(s) to use for instructional and other learning purposes.
In these new definitions the Consortium makes the same kind of distinction in blended as we did (compare 4 and 5). Furthermore, I think we have courses in all seven categories at our university.
There is more to blend
If you look at the definitions there are based on the mix of two types: online versus face-to-face. I agree with Steve Wheeler that there are much more modes of learning that you can blend. Some examples he lists are the mix between social and personal learning, between synchronous and asynchronous activities, between mobile and tethered learning experiences. I fully agree with his summary:
So blended learning is becoming an increasingly complex concept, with multiple possibilities and infinite options. Blended is about choice, and about maximising your learning in the modes you find most convenient. Learning in all its forms is a little like the blender in your kitchen. Put in the right ingredients, and use a little effort, and hopefully the result will turn out to be very useful.