TU Delft Educational Vision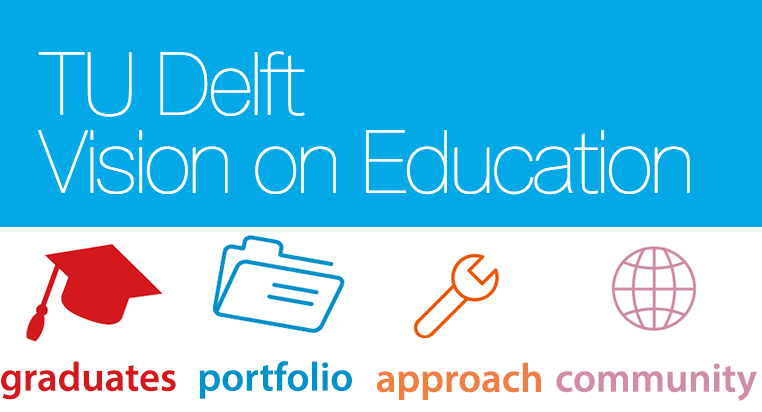 Last year (it sounds long ago) the TU Delft approved our new educational vision:
This document contains Delft University of Technology's vision on education. It describes our educational goals and quality ambitions, and states directions for further development of our educational portfolio and our way of teaching and learning.
Due to developments within and outside our university, we need to redefine our vision on education. In drawing up the new vision we have taken the following developments into account:
increasing pace of technological change
globalisation and the accelerating digitisation of our economy and social interactions
a strong growth in the international mobility of both students and staff
changing features of our student population as a consequence of the changes in society
shifts in the public funding of higher education
rising enrolments leading to a larger student population and increased pressure on our staff and facilities
growing competition for research funding
the challenge of balancing our education, research and valorisation activities
the breakthrough of massive open online courses (MOOCs) and other forms of digitally enhanced teaching and learning.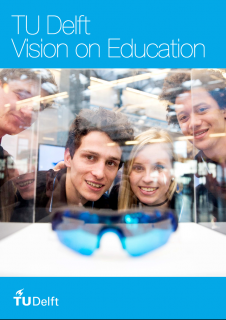 This vision on education will be used as a framework for further development of our educational portfolio and renewal of educational programmes and translated into a teaching and learning strategy for the coming six years. It will be an integral part of the new institutional Strategisch Kader 2018-2024 (Strategic Framework 2018-2024).This new Strategic Framework will be presented at the Diës Natalis next week. It will be made available on this website: tudelft.nl/en/about-tu-delft/towards-a-new-strategy/
You can download and read the complete educational vision here. I want to highlight a couple of things that are important for me (and my work).
Diversification of our portfolio
Traditionally when we talked about education at our university we meant only bachelor and master education. In this new vision it clearly states that our portfolio consists of
a set of bachelor programmes covering the full breadth of engineering sciences which are characterized by their strong disciplinary focus, leading to a Bachelor of Science (BSc) degree.
a variety of master programmes which are not only closely aligned with our research strengths but also have a design focus.
doctoral programmes with a nominal duration of four full-time academic years, which lead to a Doctor of Philosophy (PhD) degree
a select number of specific Professional Doctorate in Engineering (PDEng) programmes, focused on becoming a technological designer for Industry.
opportunities for students to personalize their graduation profile and pursue their own interests by including elective elements in- or extra-curricular modules on top of - their compulsory curricula, such as minors, elective courses, tracks, specialisations and annotations, honours programme (BSc and/or MSc), double degree programmes (BSc, MSc, PhD), student competition projects (Dreamteams), study abroad, internships, graduation projects, doctoral education programme for general academic and transferable skills
a variety of professional and post-academic courses and continuous education programmes for working professionals, leading to professional certificates, advanced science diploma's or advanced science degrees
Open Community
As many of you know the TU Delft thinks that open education and sharing is important and part of our public mission. Now we have written it down in our vision:
share latest insights from our research with our students, alumni, working professionals and learners all over the world and become a learning community in which we learn and collaborate to solve the challenges of our time
share our courses and course materials with a global public by publishing them under an open license that allows re-use for non-commercial ends.
Challenge based didactics
Our vision states that we will develop a 'challenge based didactical approach' in which students will be inspired to collaborate in project teams, focused on applying their scientific and engineering knowledge and developing those (collaboration) competences and skills to solve real world engineering challenges. 
Important for me is that we do not enforce one specific didactical approach, but that we stimulating diverse forms of learning and the use of digital technologies. We do see the potential of online and blended education to enhance teaching and learning.
Careers in education
In a research university there is always tension between research, education and other activities. In this vision we have addressed this and we will work on the balance:
The balance between education, research and other activities of academic staff is under pressure and needs to be further improved. We create a culture and structure in which teaching excellence is acknowledged in terms of further development as well as career opportunities. Teaching excellence and leadership in education will be weighed on par with research excellence and leadership in research when promoting staff to higher academic positions.
 In our soon to be released strategic framework there is more on this topic.