Thailand International e-Learning Conference 2018

This week I was invited to speak the 9th international e-learning conference of the Thailand Cyber University project. The theme of the conference was MOOCs and beyond. Normally I don't hear or read a lot about the developments around MOOCs and online education in Asia, so this was good opportunity to learn.
Keynotes
They had a great line-up of keynotes with Paul Marca of Stanford Center for Professional development, Zoraini Wati Abas of Wawasan Open University Malaysia, Madya Alyani Ismail of Universiti Putra Malaysia, Malaysia, Dhawal Shah of Class Central, Masato Kajimoto of University of Hong Kong, Anuchai Theeraroungchaisri of Thailand Cyber University (TCU) Project and me.
General Impression
Every Asian country has initiated a national MOOC project in the last couple of years. Most of these projects are directly funded by the government. For example, the ThaiMOOC project is funded by three ministries (education, science & technology and ICT). In Thailand this project is included in the national education strategy 2017-2036(!).
Most of them use open.edx as platform to offer MOOCs. Most important reason is setup their own platform is the language. English is still a barrier for most Asian people. They all configured the platform in their native language(s). It is positive that they are using open.edx platform and not developing their own.
The goal of most projects is not specifically about MOOCs, but more about modernising the educational sector. What I understood is that the education sector was still very traditional and suffered from declining enrolments. A lot of students wanted to study abroad and now also online. The government needed to do something to kick-start this transformation and MOOCs were the perfect project to do this.
Education in an Era of Disruption
Paul Marca of Stanford had an interesting keynote that aligned nicely with mine. The Stanford Center for Professional development currently has more enrolments than the campus education. Paul had 7 predictions (disclaimer: predictions are difficult, especially if they are about the future):
commoditisation of education
companies craft their own curriculum
training will dominate (training is not education)
universities will need to reinvent their value
reinvention hinges on units developing extended education
credentials will become more valued than degrees
the age of Master Teachers is near
Paul showed his idea for a future university portfolio: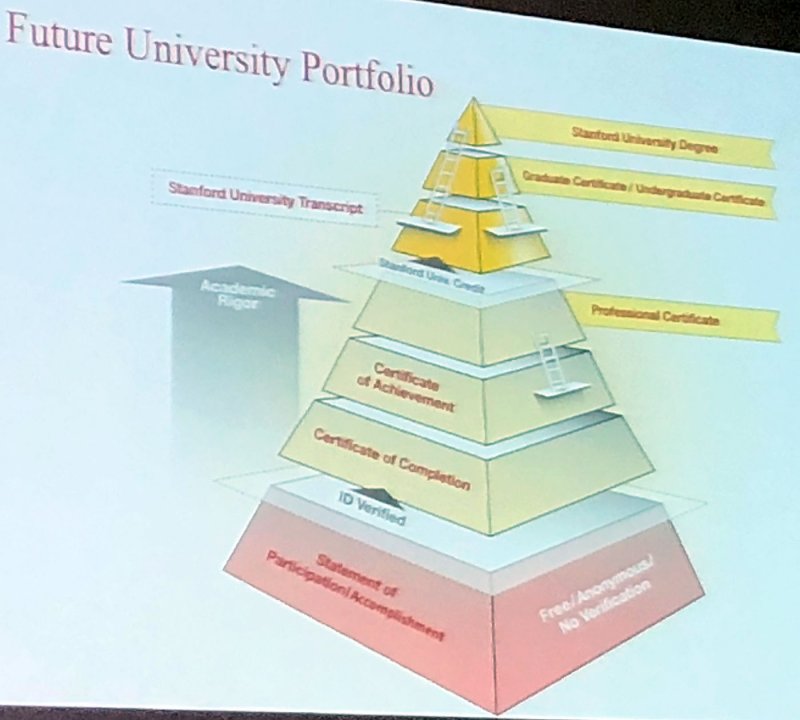 According to Paul universities have to respond to these developments and prepare themselves. If a university doesn't do this, it can become obsolete. Possible responses of universities according to him:
the lifelong learner as consumer
develop and deepen industry relationships
consider in-sourcing what is practical
don't innovate ….. experiment
focus on faculty strength and new combinations of offerings
He thinks that the future focused experiments that are currently happening with microcrendentials and online master programmes are important for every university to find their strength and prepare their university for the future.
MOOC Monetisation Models
Dhawal Shah of Class Central had a good keynote about the monetization of MOOCs and how all platforms are looking for the right way to do this. He started Class Central a couple of year ago to provide an overview of all MOOCs on the different platforms and reviews of these MOOCs. They currently have almost 50k reviews of 900k registered users. They also regularly write articles about MOOCs, already more than 700.
According to his stats, there are 9400 MOOCs from more than 800 universities. Those MOOCs are done by 81M learners. 40% of the MOOCs are about business and/or technology.
The five biggest platforms based on the number of enrolments are:
Coursera (based in US) 30M
edX (based in US)14M
XuetangX (based in China) 9.3M
Udacity (based in US) 8M
FutureLearn (based in UK) 7.2M
Steps to monetization
All platforms go through these four steps of monetization, although the order can differ:
reduce free tier -> less free stuff
expand availability -> offer more self-paced courses
focus on professional learners
launch credentials
He showed in his presentation how Coursera has gone through these steps. From their initial mission in 2012 of "making the best education in the world freely available to all" to the expected IPO this year of next year.
MOOCs have become big business for the providers. For the universities they only can be sustainable if there is a strong on-campus benefit.
Micro-credentials
One of the big challenges he identified is the chaos in micro-credentials. Each MOOC provider is making their own name for similar products. This leads to confusion and is not in the best interest of the learners. Especially the trade marking of a micro-credential is really bad for the further development in online education.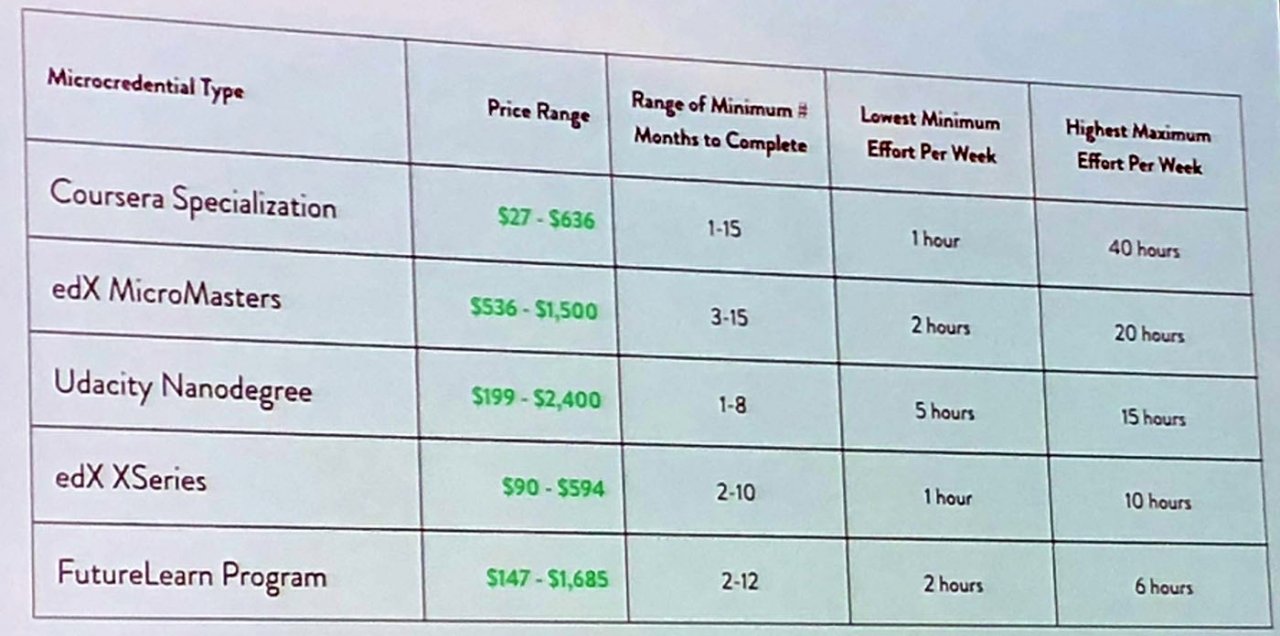 MOOC degrees
According to Dhawal the second wave of MOOC hype is here and it's online degrees. These new online degrees are built on top of free courses and MOOC-based credentials. Learners pay per course (not for the complete programme) and they don't follow the normal semester patterns. The first programmes have been really succesful, but the have the first mover advantage:
Programme
Cost
# students
Online Master of Science in Computer Science
GeorgiaTech & Udacity
$7k
6365
iMBA
University of Illinois & Coursera
$ 22k
1100
Online Master in Analytics
GeorgiaTech & edX
$10k
650
MOOC Design in Malaysia
Madya Alyani Ismail is the Deputy Director (Teaching and Learning Innovation) Centre for Academic Development (CADe) of University Putra Malaysia and Chair of the Malaysia E-Learning Council for Public Universities (MEIPTA). In her presentation she outlined the development of MOOC design and delivery in Malaysia. From passive learning to immersive learning as shown in the image below: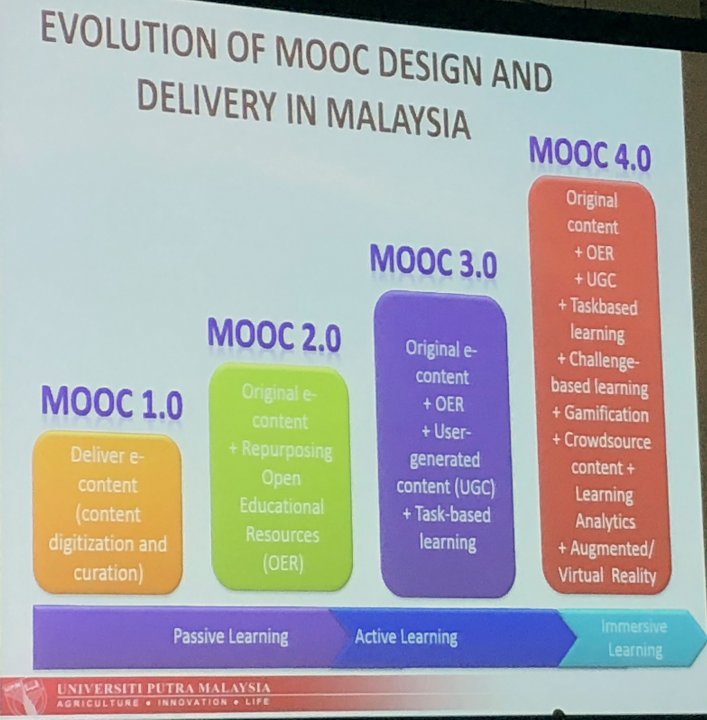 ThaiMOOC
Anuchai Theeraroungchaisri of Thailand Cyber University (TCU) Project the latest development of ThaiMOOC. From a project they are moving toward a national MOOC Platform Provider that only offers the mooc platform, but also include a national learning portfolio system, a kind of credit bank. He sees clear benefits of this strategy: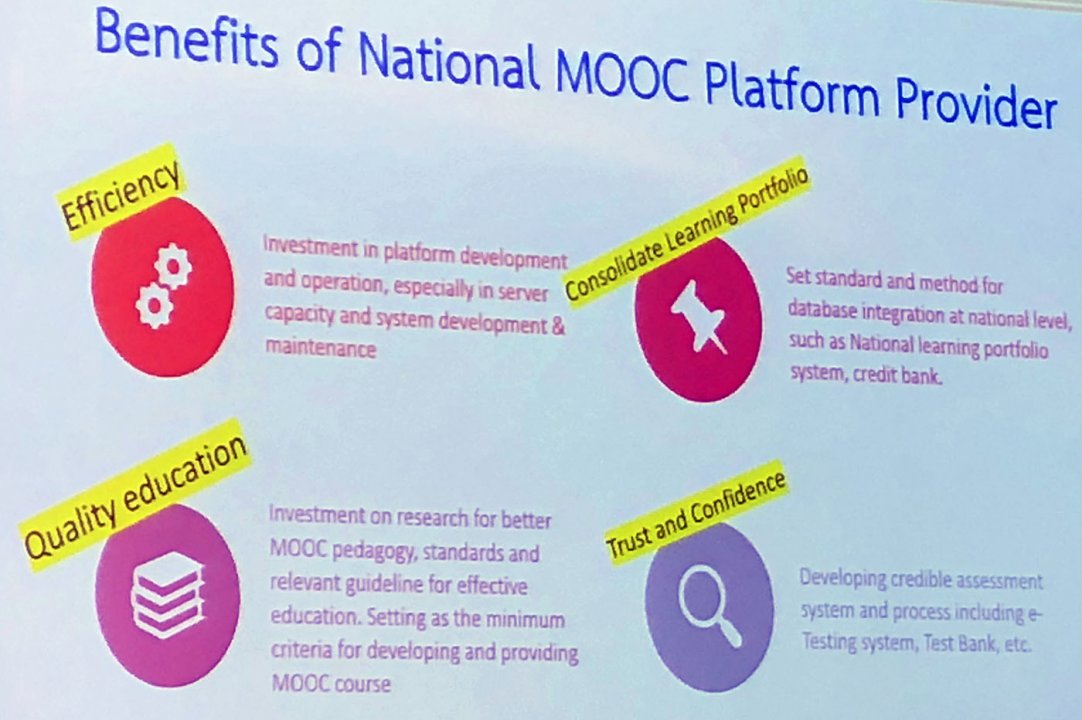 Conclusion
Altogether it was an interesting conference with strong focus on the developments in Asia. Asia has the same challenge with all the different languages as we have in Europe. But the level of English is quiet diverse among the countries and individuals.
For me it was also the first time to Thailand. Unfortunately I had limited time for site seeing, but did had some time to see the Grand Palace and a floating market. Photos are available on my flickr page.