One of the best things of the Online Educa Berlin Conference this year was the debat on Thursday. It was a Britisch style debate with 2 speakers for the motion and two speakers against it.
The motion:
The House believes that a ban on diplomas and degrees awarded by schools and universities would have a positive impact on competence development and lifelong learning.
The speakers were:
The chairperson was Harold Elletson, former Britsh parlementsmember. All the speakers had a lot of humour, which really made this to a big success.
We are all sheep
Jeff Staes start with a set of posters that were held up by people of the audience. His argument is that we have become sheep; parents, pupils, teachers, lecturers, politicians - all marching our kids through a process that doesn't deliver. We have 2D teaching and 2D testing that leads towards 2D thinking and 2D people who live and work in a 3D world. Where's the passion? Where's the real competences? Jeff delivered this with a lot of passion, humour and flair.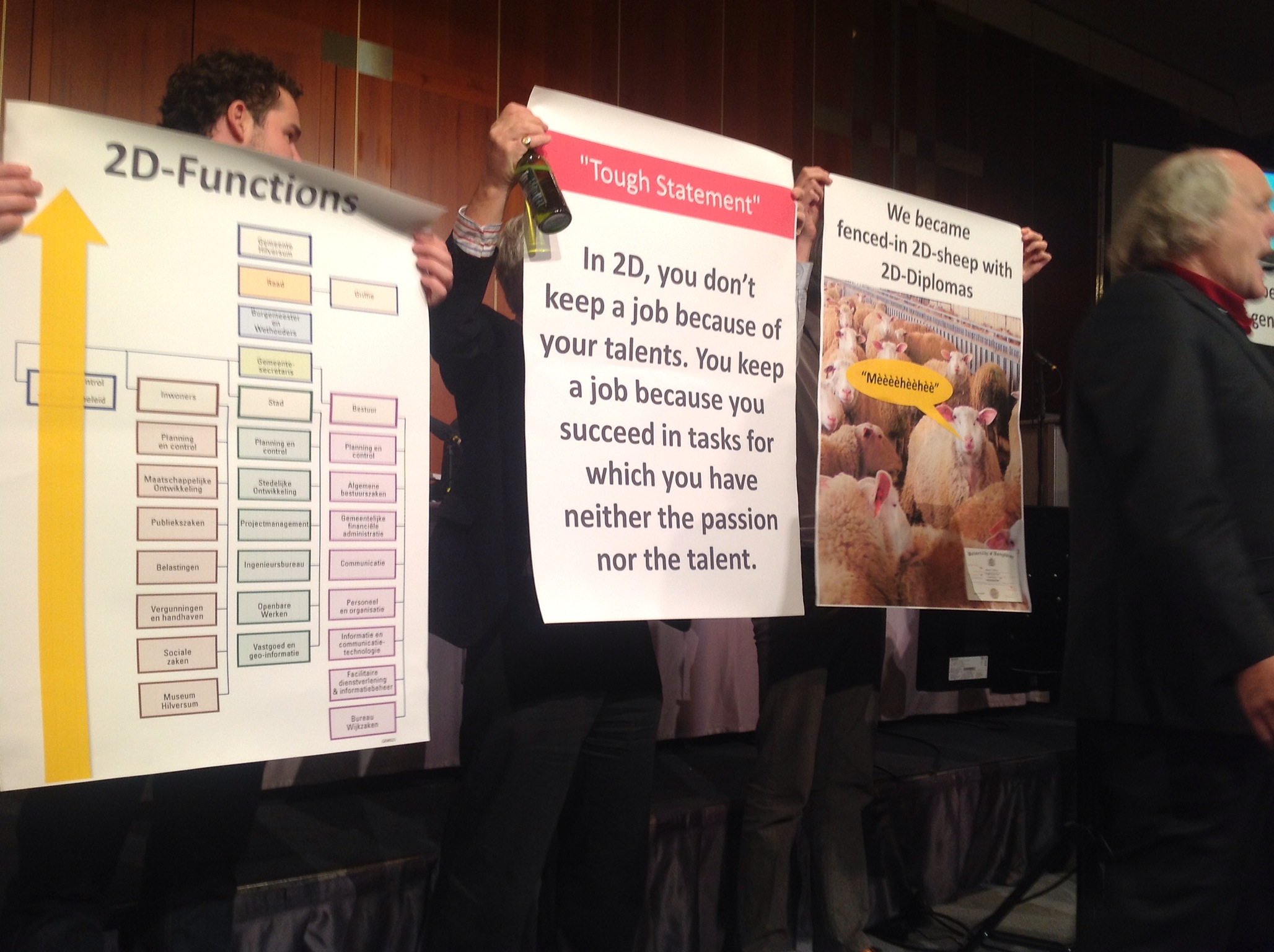 Donald Clark - 7 Fails
The second speaker for the motion was Donald Clark. In his typical Scottish accent he came with 7 fails:
FAIL 1: Qualifications-led culture has crashed
FAIL 2: Teach what is easy to test
FAIL 3:International arms race in assessment
FAIL 4: Distorts teaching, learning & life
FAIL 5: Holds back adult education
FAIL 6: Qualifications bubble?
FAIL 7: Testing for profit
Donald already has written a nice blog about these 7 fails.
Against the motion
Kirstie and Sue had less of performance, but they had some storng arguments:
don't blame the degrees, the problem is how the teaching is delivered. Let's change this!
Diploma or no diploma is the wrong question. Are all diploma's bad for you?
Would you get in a plane with a pilot without a diploma?
Don't blame the degrees for the wrong way of assessment
Joe the Plumber will be the victim of banning degrees.
Parents and tax payers want to see the results for their investment in education the youth.
You can criticise PISA, but it has caused new developments in our education.
Diplomas and tests should become more relevant, but banning doesn't help.

The criticism

of the

proponents

of

the motion

is correct

,

but that's

not

the motion

.

Do not throw

the baby out with

the bathwater

!
Winners
The proponents of motion won the debate. I voted against it, because because it is bad to force degrees, it is also bad to ban them. Diplomas still help a lot of people to a job, especially the students from a lower social environment.
I agree that we should really look at the current way we test and assess our students. Are they a good predictor for the knowledge and skills a student has?