Open Education Week event in Delft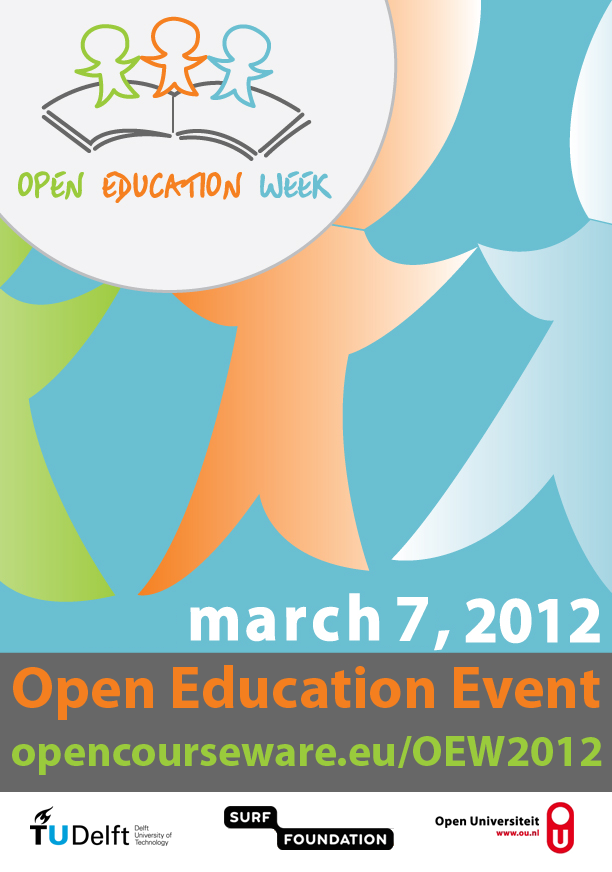 The OpenCourseWare Consortium is organising the first annual Open Education Week from March 5 – 10, 2012. Open Education Week is a global event, raising awareness about the benefits of free and open sharing in education, especially Open Educational Resources (OER).  OER are high-quality, free and open educational materials that offer opportunities for people anywhere in the world to share, use and reuse.
"The vision of the open education movement is to create a world in which the desire to learn is fully met by the opportunity to do so, where everyone, everywhere, is able to access affordable, educationally and culturally appropriate opportunities to gain whatever knowledge or training they desire. "The movement encompasses producing, sharing, using and modifying content, as well as innovative models of educational delivery," said Anka Mulder, President of the OpenCourseWare Consortium.  "Open Education Week will showcase projects, resources, people and ideas so that people around the world can see the breadth of what has been accomplished already, and participate in discussions about the future of the movement."
Delft University of Technology, SURF and Open Universiteit in the Netherlands strongly support Open Education Week and organize an event for policy makers within Higher Education in Europe.
We would like to invite you to attend this event on March 7th in the Aula of Delft University of Technology in the Netherlands.
Speakers are Anka Mulder (President of the OpenCourseWare Consortium), Halbe Zijlstra (Dutch State Secretary for Education), Lieve Van der Brande (European Commission, DG Education and Culture), Greetje van den Bergh (Chair Netherlands National Commission for UNESCO), Arnold Jonk (Director Knowledge of Dutch Ministry of Education, Culture & Science), Fred Mulder (UNESCO Chair in OER at Open Universiteit and Chair Steering Committee Wikiwijs) and Neelie Kroes (European Commissioner)
More information and registration for this event: http://opencourseware.eu/OpenEducationEvent2012.