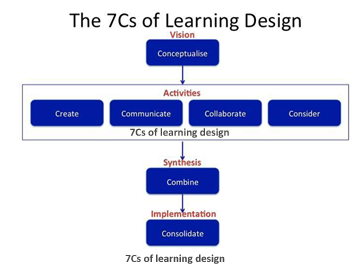 Via the EMMA newsletter I read about the 7Cs of learning design, a conceptual framework that combines the Open University's Learning Design Initiative with the Carpe Diem learning design workshops by the University of Leicester.
The 7Cs are grouped into four categories:
Vision

Conceptualise (i.e what are you designing and why, who are you designing for?)

Activities 

Capture (in terms of capturing resources to be used and activities around Learner Generated Content)
Communicate (mechanisms to foster communication)
Collaborate (mechanisms to foster collaboration)
Consider (activities to promote reflection and enable assessment)

Synthesis 

Combine (combining the activities to give a holistic overview of the design and associated learning pathways)

Implementation 

Consolidate (in terms of running the design in a real learning context, evaluating, refining and sharing the design).
Each C has a set of Conceptual Learning Designs (CLDs) associated with it.
It looks like a useful model for learning design. The presentation below gives some more information.