TU Delft at the Wharton Awards
This week I'm attending the conference Reimagine Education conference, organised by QS Stars and the Wharton SEI Center. An important part of the conference is the awards ceremony for the first "Reimagine Education" competition.
In total the organisation received more than 400 proposals. The TU Delft has submitted 7 proposals and 4 of those were shortlisted:
Hybrid Learning Category: Policy Analysis of Alexander de Haan
e-Learning innovation: First online laboratory for experiments on Drinking Water Treatment of Anke Grefte
Teaching Delivery: Arno Smets with his MOOC Solar Energy
Enterprise Innovation: Playful Computer Science of Alexandru Iosup
The course of Alexander de Haan even made it into the top 3. Tonight I was honoured to receive the award for runner up in the category of Hybrid Learning on behave of Alexander. Alexander and Fieke, congruatulations for this great accomplishment!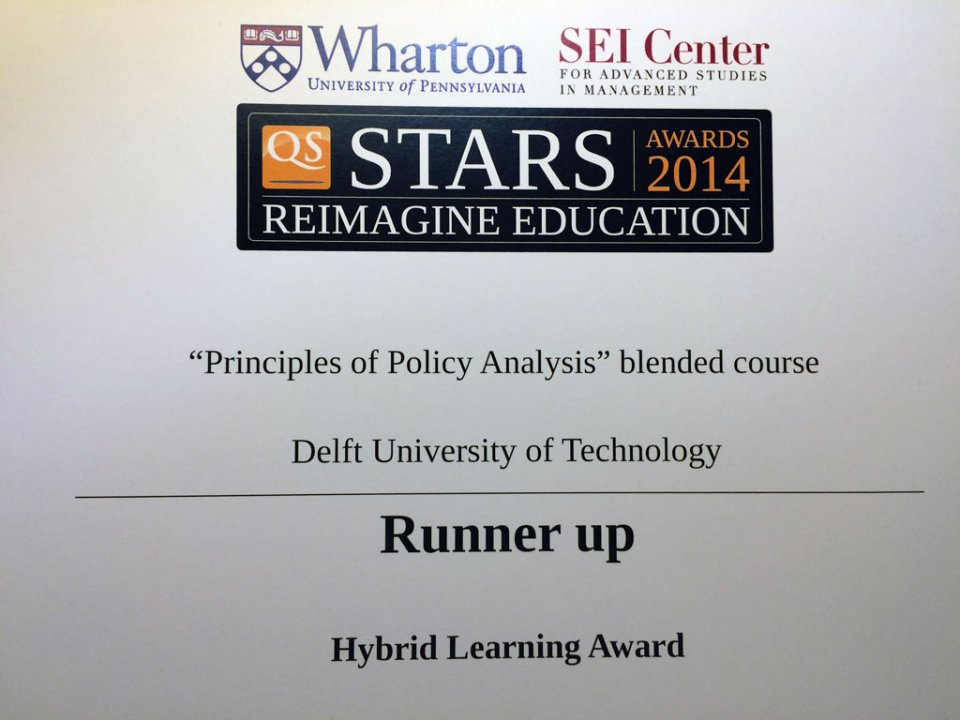 Below is the video Alexander and Fieke made to introduce this course:
1 comment
Comment from:
Bert Enserink
[Visitor]
Congratulations! Inspiration and teamwork led to a great result: an inspiring example!