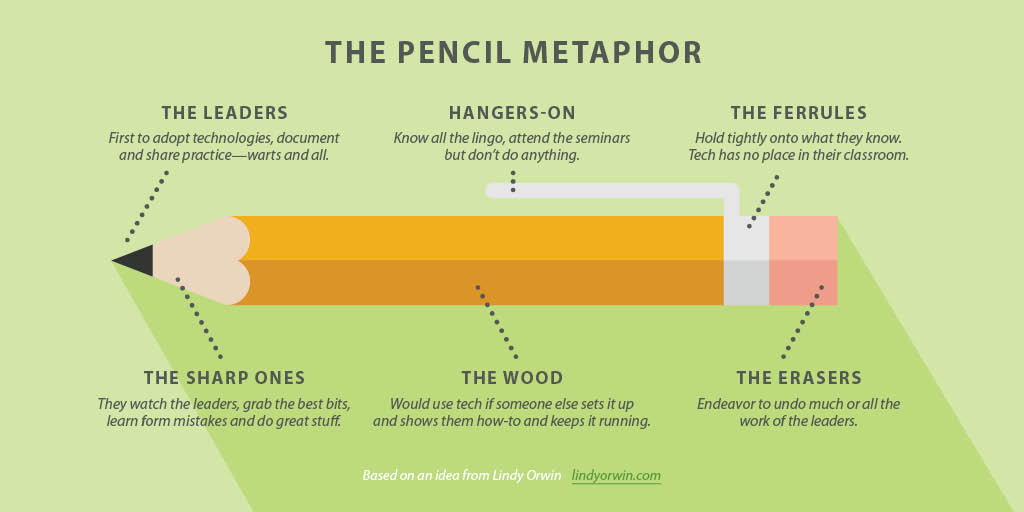 In a recent report of the Hewlett Foundation they use the Pencil Metaphor for the adoption of Open Educational Resources (OER). In the metaphor they identify six types of users:
The Leaders
First to adopt technologies, document and share practice—warts and all.
The Sharp Ones
They watch the leaders, grab the best bits, learn form mistakes and do great stuff.
The Wood
Would use tech if someone else sets it up and shows them how-to and keeps it running.
Hangers-On
Know all the lingo, attend the seminars but don't do anything.
The Ferrules
Hold tightly onto what they know. Tech has no place in their classroom.
The Erasers
Endeavor to undo much or all the work of the leaders.
I agree that we should focus more on the people in the wood. So more focus on helping teachers with the adoption of OER.
Hewlett is focussing on strengthening pedagogy and reducing costs in higher education. The activities focus on:
Open Textbooks for the most-enrolled college courses

Building the library of easily discoverable open textbooks.
Providing technical assistance.
Promoting open textbooks among faculty and librarians.

Zero textbook cost degrees in Community Colleges

Identifying and supporting the next set of early adopters.
Scaling the model through targeted advocacy.
Ensuring implementation with sufficient tools and expertise.
Strengthening the supply of postsecondary OER to fuel expansion.