Open Research Open Textbook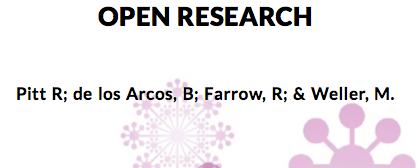 Today the great folks of OERhub launched an open text book about open research. The book is based on two iteration of an open course they have run in the past:
This resource will help you explore what open research is, how you can ethically and openly share your findings so others can reuse or develop your work, and the role of reflection and open dissemination. Whilst many challenges and issues apply to all aspects of research (for example choosing an appropriate methodology), open research brings a range of different opportunities and challenges; it's these that we are specifically interested in exploring. What can openness add to the research process?
The book has 4 main chapters:
Open Research
Ethics in the Open
Open Dissemination
Reflecting in the Open
Although I haven't read the complete book, it looks interesting and a must read for every researcher!
Reference
Pitt, R. de los Arcos, B. Farrow, R and Weller, M. (2016). Open Research. OER Hub. Available from: https://openresearch.pressbooks.com
Image Credit: CC-BY-SA OERhub