D2LFusion: Solution Spotlight
posted on Aug 6, 2017 by
willem
in
D2L

One of the big sessions at D2L Fusion Conference is the Solution Spotlight. Interesting is that they hardly tell anything new, because they release new features and updates every month as part of the continous delivery cycle (CDC). But it is good to see what has happened in a year time and a couple of new interesting features.
One year of updates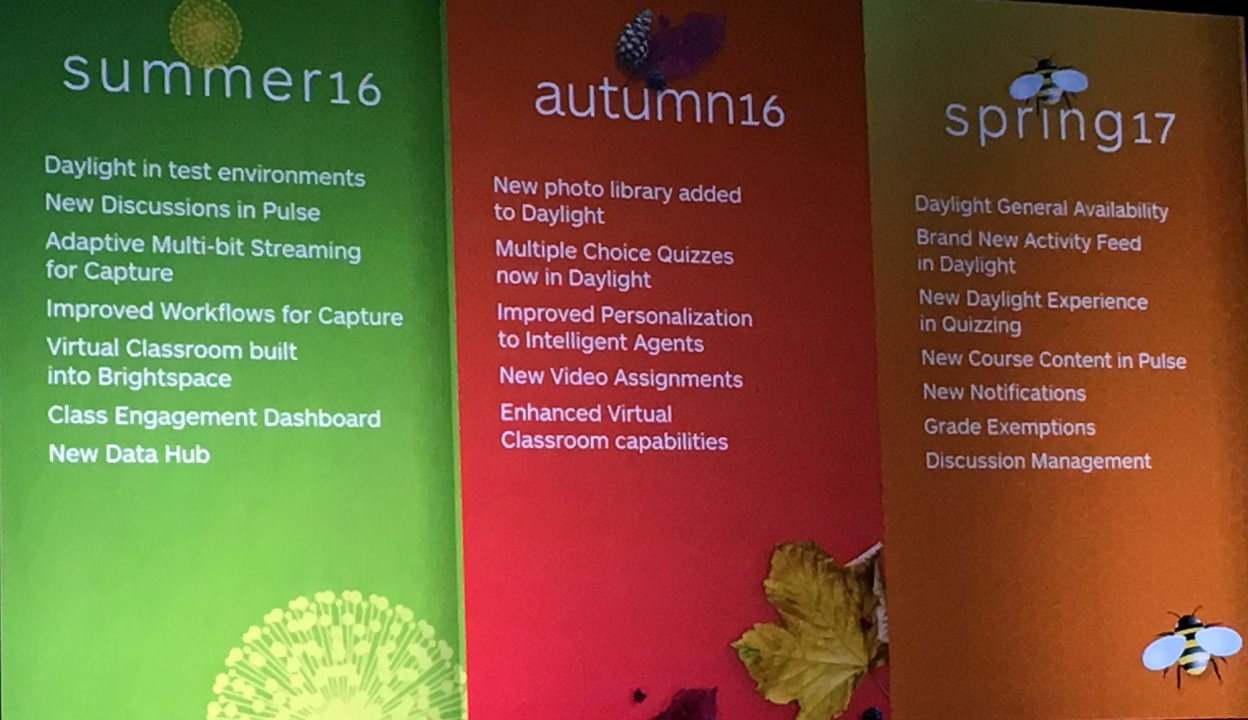 The image above shows the major update in the last year. Last year at Fusion they announced Daylight and it was directly available in thest environments. In less than a year this was a big step for the Brightspace platform and part of their strategy as I have wrote about last week.
Accessibility Checker in HTML Editor
An important update for the accessibility of the platform is the accessibility checker integrated in the HTML Editor. Creating HTML pages gives the best result on all devices, so it is important to make them very accessible. They have done a great way to integrate it and to make it easy and handy to use it. I especially like the check when you select a color as is shown in this video.
Brightspace Data Sets

The Brightspace Data Sets are a new data product for D2L clients, providing a comprehensive set of data, refreshed on a daily basis. Currently there are 47 data sets available to download or connect to via their API. As part of our learning analytics strategy this is import for our university. Off course it is great to have Learning Analytics dashboards in the platform, but this gives the option to combine the data of Brightspace with other data sets we have on campus. Because we will build this ourselves, we can give maximum transparancy on what we are doing and what data we are using.
User feedback

D2L is very proud that in every relase they include at least 25% of ideas and suggestions from their users. Personally I also think this is important. It does mean that we have to monitor the "Product Idea Exchange" and upvote the ideas and suggestion we think are important and also submit our own ideas there.
K-12 update
An important part of the new updates are related to their activities in K12 (primary and secondary education). They have developed a couple of very interesting features:
Portfolio
Lessons
Activity feed
Brightspace for parents
This video gives a good overview:
Continuous Delivery Cycle
For my university the CDC is a new process. We used to update our Blackboard system once a year and organised the upgrade as project. With continous delivery that doesn't work, we have to organise it as a process.
The monthly release is always released in first Thursday of the month and made available on our test systems. In the third week of the month, the update is installed on production. So we have two weeks to determine the impact, decide on which features we will turn inmediately and what we need to do in the communication and support to our users. These CDC updates don't lead to downtime for the users.