Virtual Exchange Programme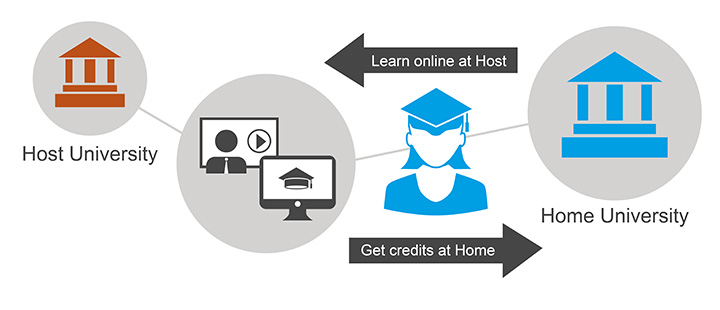 Last month TU Delft signed an agreement with 8 other high-ranked universities for a virtual exchange whereby they offer their students the option of taking online elective courses and gain credits for their bachelor or master degrees. In a similar way to a university regular exchange, such as the Erasmus in Europe, students can obtain credits from a partner university that count towards their 'home' education. The difference is that in this 'virtual' exchange the students don't need to travel as they study online.
The top universities participating in this innovative programme and signatories of the pioneering agreement are: the Delft University of Technology, the Ecole Polytechnique Fédérale de Lausanne, Wageningen University and Research, Rice University, the University of Queensland, the Australian National University, the University of Adelaide, the Hong Kong University of Science and Technology, and Leiden University.
Earlier this year we already did a pilot with a limited number of courses and students. These universities already know and trust each other – they already hold mobility exchange agreements, have experience in online education and enjoy a good international reputation.
This virtual exchange programme benefits the students in many ways:
Online, flexible, free
Study at the time and place that suits you - more freedom, for free


Enrich and broaden your portfolio
Choose electives from courses from leading universities


Access to expertise
World-class academic staff – enthusiastic, knowledgeable lecturers the other side of the screen


Diverse learning experience
User-friendly courses - varied activities, multiple format content and flexible choices to optimise learning – and exclusive access to enriched content


Connect
Be part of a global, culturally rich student community – make connections and grow your international circle
In the coming semester students can choose from 18 courses, we will also offer course during summer. More information on our website.
1 comment
Comment from:
Muvaffak GOZAYDIN
[Visitor]
When you share knowledge, you do not lose anything but gained . It has been my claim for the last 25 years that schools with the same interests should share all their courses among their students . Sure sharing schools should be at the same calibre.