Impact for a better society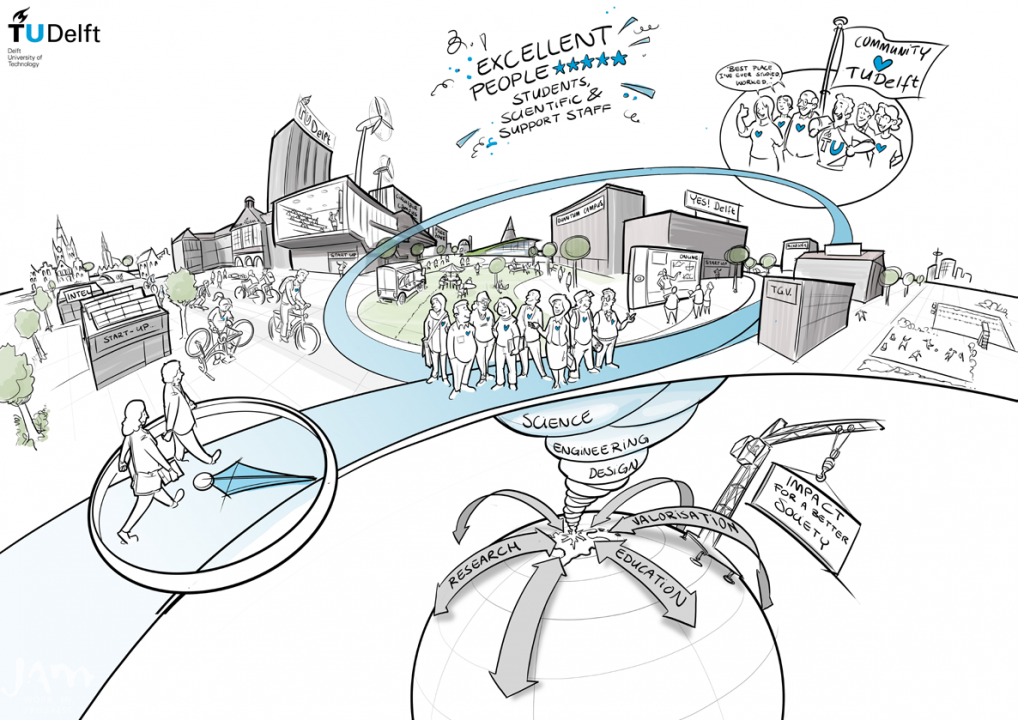 Last Friday at the 176th Dies Natalis (foundation day) of the TU Delft the new strategic framework 2018-2024 was presented. The structure of the framework is based on two dimensions. First, the breakdown of the university's core operations into four operational areas: Students & Education, Research & Innovation, People & Community, and Campus & Services. The second dimension is based on four major principles: Excellence, Impact, Engagement and Openness. In the matrix below these two dimensions are linked.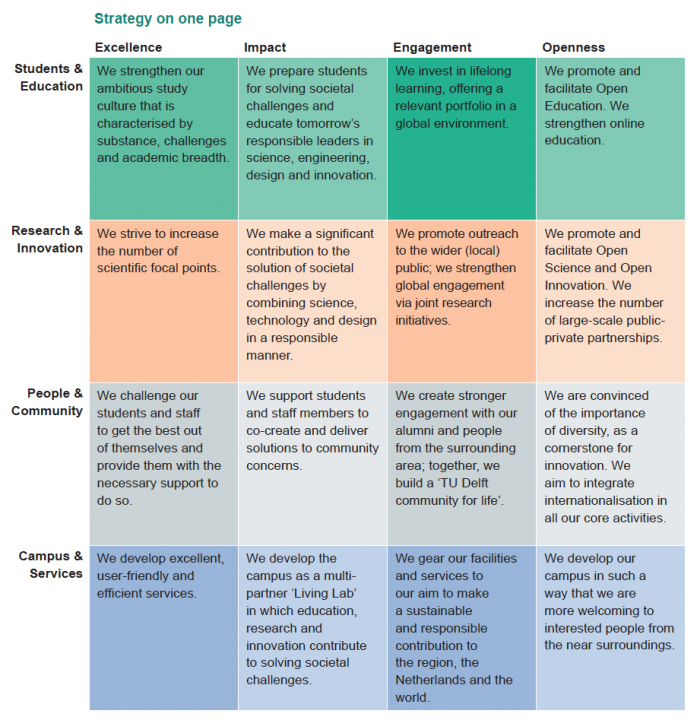 Openness
Openness is a core principle of the new strategy framework. For education it states:
We make Open Educational Resources part of TU Delft's education policy by:

Structurally supporting lecturers and students with the use of such means.
Encouraging lecturers to publish their educational material under an open license.
Making open education part of the basic teaching qualification programme and the evaluation criteria of courses.
Replacing commercial textbooks by open resources in all BSc programmes as much as possible.
 For Research & innovation the openness focuses on open science and innovation:
We develop a stronger awareness among our researchers for Open Science, by:

Stimulating Open Access publishing and the sharing of research data. We provide our researchers with the necessary support, for example by appointing data stewards and data engineers within all faculties who advise researchers in managing their data.
Dedicating ourselves to reducing costs for Open Access publishing by negotiating journal subscriptions with publishers. We encourage our researchers to serve on relevant Editorial Boards.
Exploring new ways to present and disseminate knowledge.
Collaborating with (inter)national leaders in the field of non-traditional metrics ('altmetrics').

 We promote and facilitate Open Innovation by:

Adapting Intellectual Property policies to the current funding landscape, and making those policies suitable to programme-based funding schemes.
Developing best practices for working with open source software, for example in relation to copyright and archiving of source code.
Creating an open source software community with active ambassadors.
For people & Community it focuses on getting more recognition in career paths of our academic staff for non-research goals, such as open science and open education.
Impact for a better society
Althogether I'm proud that our university has adopted this strategic framework with such a strong focus on openness. Off course, now the hard work starts to operationalise the high level principles in tangible measures and results.