Policy Approaches to Open Education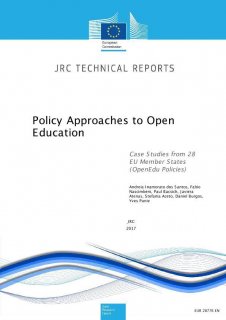 The JRC open education research team has published another interesting report. In this technical report they provide an EU-wide overview of the state of play with policies on open education. 28 member states (MS) are researched:
 The goal of the study Policy Approaches to Open Education in Europe : Case Studies from 28 Member States (OpenEdu Policies) was to find out which specific policies on open education are in place in European countries. At the same time, by eliciting the different perspectives, barriers and challenges to having such specific policies, the study aims to provide evidence that will cont ribute to a greater understanding of the development of open education in Europe. This report accompanies the JRC Science for Policy Report Going Open: Policy Recommendations on Open Education in Europe (OpenEdu Policies ).
They have performed desk research, interviews with relevant persons and integration of all results.
Conclusions
In the report they list four conclusions:
The road to open education implementation is a long one and that different MS are travelling along it at very different speeds and in different ways. The positive note is that all researched countries have started the journey.
A key factor complicating the open education journeys: the surrounding education scenery is very different in the different MS, especially at university level (which was a key focus area for this study).
In most MS the vision of open education is quite broad, going beyond OER and open content, but when this vision is applied to a policy, the approach towards open education is often still limited to OER.
if the MS and the European Commission want further progress in the open education field then the EC will have to take steps to both increase awareness on open education and increase the frequency of studies and peer - learning activities among MS. A more systematic approach, such as some kind of regular "open education census", would be needed, preferably carried out in some form of MS-EU partnership.
Reference
Inamorato dos Santos, A., Nascimbeni, F., Bacsich, P., Atenas, J., Aceto, S. Burgos, D., Punie, Y. (2017) Policy Approaches to Open Education – Case Studies from 28 EU Member States (OpenEdu Policies). EUR 28776 EN, Publications Office of the European Union, Luxembourg, 2017, ISBN 978-92-79-73495-3, doi: 10.2760/283135 , JRC107713