OOFHEC2018: EMBED project
At the annual EADTU conference Open, Online and Flexible Higher Education Conference at Aarhus University (Denmark) I was also invited to present about the European project we are currently participating in. The Erasmus+-funded project focuses on developing a European Maturity Model for Blended Education (EMBED).
 My keynote focused on the three levels of blended education that our framework will connecting.
Defining the blend
In the project we focus on the blend between online and face-to-face activities. We use these definitions:
Blended Learning
learning as a result of a deliberate, integrated combination of online and face-to-face learning activities.


Blended Teaching
designing and facilitating blended learning activities.


Blended Education
the formal context of BL that is determined by policies and conditions with regard to the organization and support of blended learning.
Three levels
Within the project we identified three levels:
Micro
blended learning and teaching of a course or programme. Primary actors are the students and teachers.
Meso
This is the context of the institute for blended education. Is there a policy for blended learning? Is there support available for teachers? Are classrooms setup suitable for blended learning?
The primary actors are the leadership of the institute and support staff to make blended teaching and learning possible
Macro
the macro level is outside the institute, such as governmental policies, accreditation organisations. Interesting societal discussion on more classtime for students can influence the maturity of blended learning on the micro level.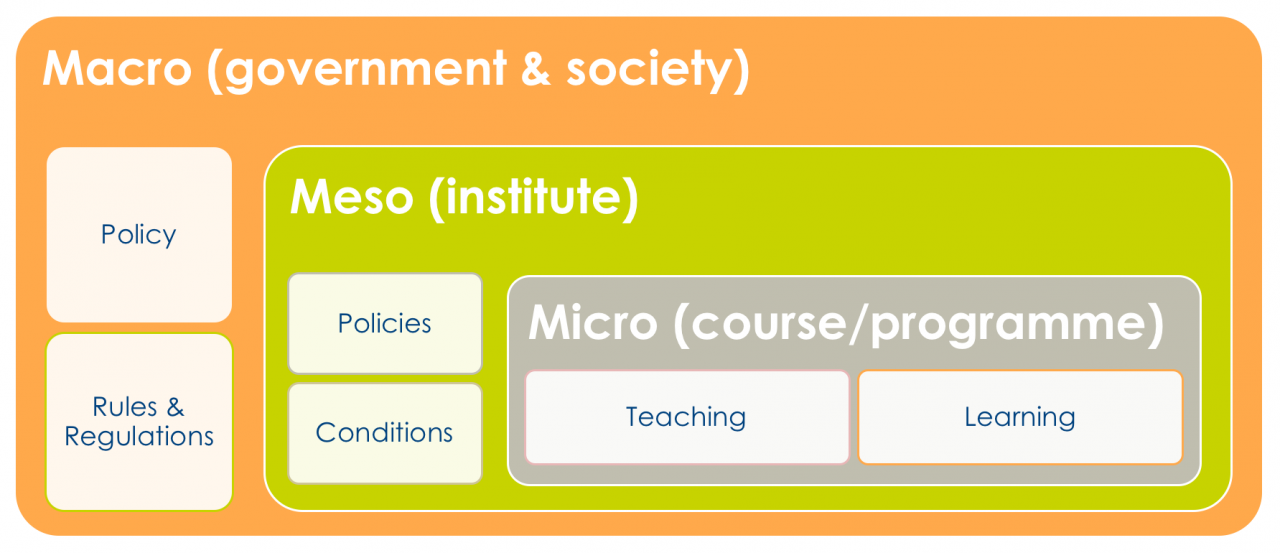 In the feedback I received, it is especially the MESO level that is a eye-opener for many people. It is important that all three levels align to reach a level of maturity in blended education.
 Below the slides of my keynote, the session was not recorded.