EMBED training seminar at DCU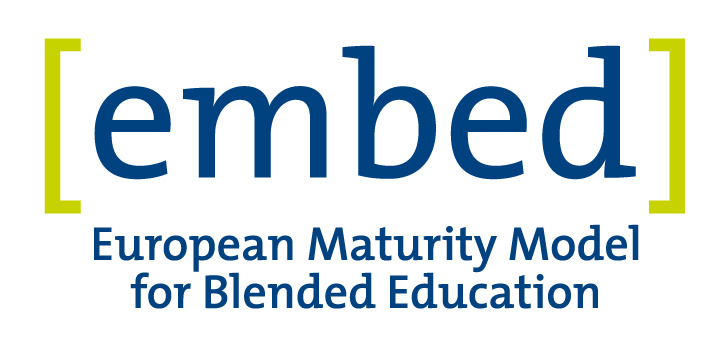 Part of our participation in the EMBED project (European Maturity Model for Blended Education) is the organisation of a couple of training events to share our knowledge and to give you the opportunity to learning about state of the art research and innovation in blended and online teaching and learning.
The next training event will be a EMBED training seminar at DCU in Dublin, 4-7 June 2019. This 3-days intensive training session is organized by the project team of EMBED. The "European Maturity Model for Blended Education in Europe" (EMBED) is developed by a consortium of frontrunner universities in blended and online education: KU Leuven, TU-Delft, the University of Edinburgh, the University of Aarhus, Dublin City University and Tampere University of Applied Sciences. It is coordinated by EADTU and funded by the European Commission. For full details on the project we kindly refer to the EMBED website.
The training seminar will be an opportunity to learn about state of the art of blended teaching and education and to apply new concepts on the current context of your university. Participants will further generate feedback on the multidimension maturity model for course design as developed by the consortium (micro) and on the institutional strategies needed in order to implement it (meso). You will also learn about the monitor to assess the maturity of blended and online educational practices at universities. The monitor is conceived as a multi-layered instrument with dimensions and indicators that were newly developed or adapted from previously validated instruments. Its goal is to grasp in detail practices and conditions for blended learning. All instruments are piloted across different institutions, programmes and courses
Foreseen participants are coming from:
Teaching staff designing or redesigning a course, using new modes of teaching and learning. Teaching staff looking for a stable framework for innovating or assessing courses, in search of a balance between increasing student numbers, enhancing the quality of the teaching and learning experience and cost-effectiveness. Furthermore, teaching staff, developing online learning activities for short postgraduate degrees and continuous education.


Teaching and learning departments developing blended and online teaching and learning models; supporting staff in course design teams; identifying patterns of good practice in their institution or in a network; collaborating with learning technology services and organising continuous professional development for teaching staff and program directors, or organising institutional evaluation and research on blended and online education. Learning technology departments providing learning-oriented technology infrastructure, tools and resources and supporting teaching staff. Internationalisation departments, responding to the needs for international blended or online courses and programs, online program collaboration and mobility schemes.


University leaders, developing and implementing policies, strategies, frameworks and guidelines making their university continuously innovative; developing drivers and enablers for innovation; organising support services and continuous professional development for staff and program directors; stimulating and activating communities of practice and sharing educational resources; providing learning technology environments and tools; funding grassroot initiatives, program-based projects, institutional evaluation and research
Although the training seminar, including coffee breaks, is free of charge, there are participants costs for lunches and dinners.
The full programme of the training seminar will follow soon. Please register as participant under the EMBED event website here.