TU Delft is leading the OpenCourseWare Consortium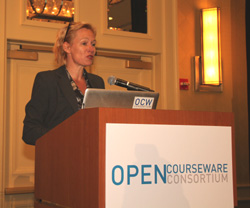 Last night Steve Carson of MIT officially handed over the presidency of the OpenCourseWare Consortium to Anka Mulder. She is the Director of Education & Student Affairs at Delft University of Technology. Steve did a really great job as first president of the Consortium. The Consortium has really matured in the last three years.
TU Delft is very proud of the new president and we see this as a complement to our OpenCourseWare project. We have started with our OpenCourseWare project in 2007 and last week we published our 50th course. We continue with our OpenCourseWare project and are going to embed it more within the university. Also to use OpenCourseWare as catalysator of our TU Delft Online programme.
The new job of Anka will give our TU Delft OpenCourseWare more momentum and attention. Our executive board is a big supporter of our OCW and really pushed Anka to become the second president of the Consortium.
Because Anka's primary job will remain, I will support here with here work for the Consortium. I really look forward to helping the Consortium to move forward together with the great staff of the Consortium. Although some people warned me for these time consuming tasks I will have to do. They even called me the 'vice-president' of the Consortium ;-)