New Open Access Policy TU Delft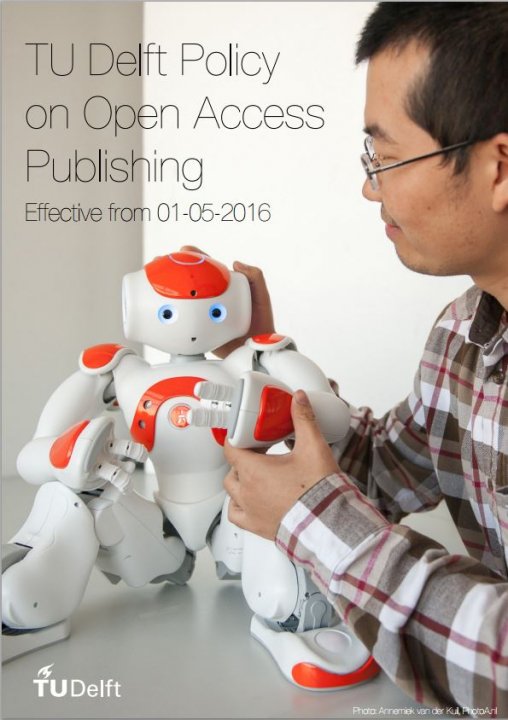 Today at the 174th Dies Natalis (birthday) of Delft University of Technology, our rector magnificus announced that the Executive Board has accepted a new Open Access Policy for the university effective per 1st of May:
As of 1 May 2016 the so-called Green Road to Open Access publishing is mandatory for all (co) authors at TU Delft. The (co)author must publish the final accepted author's version of a peer-reviewed article with the required metadata in the TU Delft Institutional Repository.
By making scientific publications freely accessible and reusable we allow more people to become aware of the results of scientific research; including those who cannot afford paid access to this information. New ideas are spread faster and wider which in turn leads to new research: a boost for science. Teachers also benefit from Open Access by using this knowledge directly in their courses. Companies gain access to the latest scientific ideas and can build on these. And Open Access publishing and Open Science boost the knowledge-based economy and innovation. This is why TU Delft expresses the importance of Open Science in its mission:
'TU Delft is dedicated to making a significant contribution to finding responsible solutions to societal problems, at both national and international level. Our mission is to deliver Science to Society.'
This policy is part of the TU Delft Open Science programme. Open Science consists of Open Research (Open Access publications and FAIR Research Data Management), Open Education, and Open Software and Sourceware. I'm one of the members of Programme Board of Open Science.
1 comment
Comment from:
Stevan Harnad
[Visitor]
Please register this (excellent) policy inhttps://roarmap.eprints.org