After an European tender procedure Delft University of Technology has selected a new LMS supplier. After 17 years we are saying goodbye to Blackboard and are going to migrate to the cloud-based platform of the Canadian Desire2Learn: Brightspace Learning Sytem. I'm very pleased with the result of our tender based on best value procurement. We have selected a partner that is eager to work with us for the next 10 years with a product that fits our strategy and is ready for the future. The new platform not only includes the full Brightspace Learning Environment (including ePortfolio, Learning Repository), but also their full Learning Analytics platform, including their predictive Learning Analytics system.
Best Value
Before we started with our tender we noticed that the traditional tender method of listing all our requirements gave such a long list, that no supplier would meet all requirements. So that selecting the best solution would be hard. That is why we changed to a best value procurement. In stead of listing all the requirement we wrote down our mission, strategy and goals we wanted to reach with the conditions (price ceiling). It was now up to the suppliers to use their expertise and know-how to provide us with the best solution they could offer within the conditions.
It also meant that they didn't need to provide us thick offers. It was limited to 2 pages for their performance substantiation, 2 pages for their risk file, and 2 pages for their opportunity file. Next to the paperwork each supplier could send 2 key persons that would be interviewed according to a standard list of questions (first question is why are you a key person?).
The most interesting is in the interviews and dossiers that we are looking at relevant dominant data. So no marketing talk, but real measurable data that can be verified. So for example, not "we have done many successful implementation", but "we have done 83 implementations in the last 2 years. Of which 79 were on time and within costs. The industry standard is 80%". This also meant that during the tender the people that will do the implementation would need to be involved. And that really improves the quality of their dossiers (if you involve the right persons).
The grades of the dossiers and interviews are based on a system that starts at 6. If you have dominent information it can go up to 8 or 10 or down to 4 or 2. So no dominant data means a 6. These grades are converted into a subtraction of the price. Combining that with the price of their offer leads to a ranking. The number one goes to the clarification & verification phase.
In the clarification & verification phase we worked together with the team of Desire2Learn to create the plan (a whole list of deliverables) and to verify their dossiers (If that doesn't work out or the verification shows error we would move on to the supplier that was ranked second). We are not buying a platform, but a plan to implement their platform. Yesterday we have finished this process and we have (provisional) awarded the tender to D2L.
Desire2Learn
Desire2Learn (D2L) is a Canadian based company founded in 1999, that is still run by the founder John Baker. According to the Ovum decision matrix for selecting an online learning platform D2L is:
Brightspace received the highest overall technology assessment score, obtaining at least a top-three rating in all 15 categories. Not unexpectedly, Brightspace received a perfect score for student performance and retention. D2L offers analytics-driven progress monitoring capabilities from within Brightspace, and in 2012 the company partnered with IBM to deliver the Smarter Education Solution, which incorporates an intervention management system and predictive analytics. Although D2L is ahead of other OLP providers when it comes to integrated analytics – and in particular predictive

analytics – the company upheld its promise to drive successful learning outcomes and its reputation for providing an open learning platform that can easily integrate with other education technologies by partnering with IBM. IBM is more attuned to predictive models and data systems, and together the two companies can help institutions leverage student data in meaningful ways. Separately, D2L also achieved a perfect score for accessibility. Its accessibility program is integrated into its R&D lifecycle, and designs are regularly reviewed with its Accessibility Interest Group, which demonstrates its commitment to this category. D2L combines all of its capabilities with impressive training and support services, and a high-touch approach to customer engagement. For example, D2L has designed custom training sessions at the request of some of its customers to help institutions learn more about topics such as accessibility. Ovum anticipates that as the industry moves into the next phase of OLP purchasing, vendors with strong support services around its solutions will be particularly appealing.

Although at its core D2L is a technology provider, it also has a strong focus on pedagogy and how enhanced learning experiences can help address the skills gap when students move on to employment. As a result, D2L received the highest score for the capacity to support next-generation online teaching and learning. The Brightspace platform moves away from a one-size-fits-all approach and is instead highly personalized to meet differing student needs. Furthermore, D2L was ahead of its competitors in addressing demand for competency-based learning and adaptive learning.

Ovum recommends that as a market leader, Brightspace by D2L should be included in an institution's list of OLPs. Moving from managing to improving learning, Brightspace meets the core functionality criteria defined in this ODM, and although its brand awareness could be stronger in certain regions it is certainly strong in North America and among its competitors. The company is continuously evolving its offerings to meet the needs of the higher education market.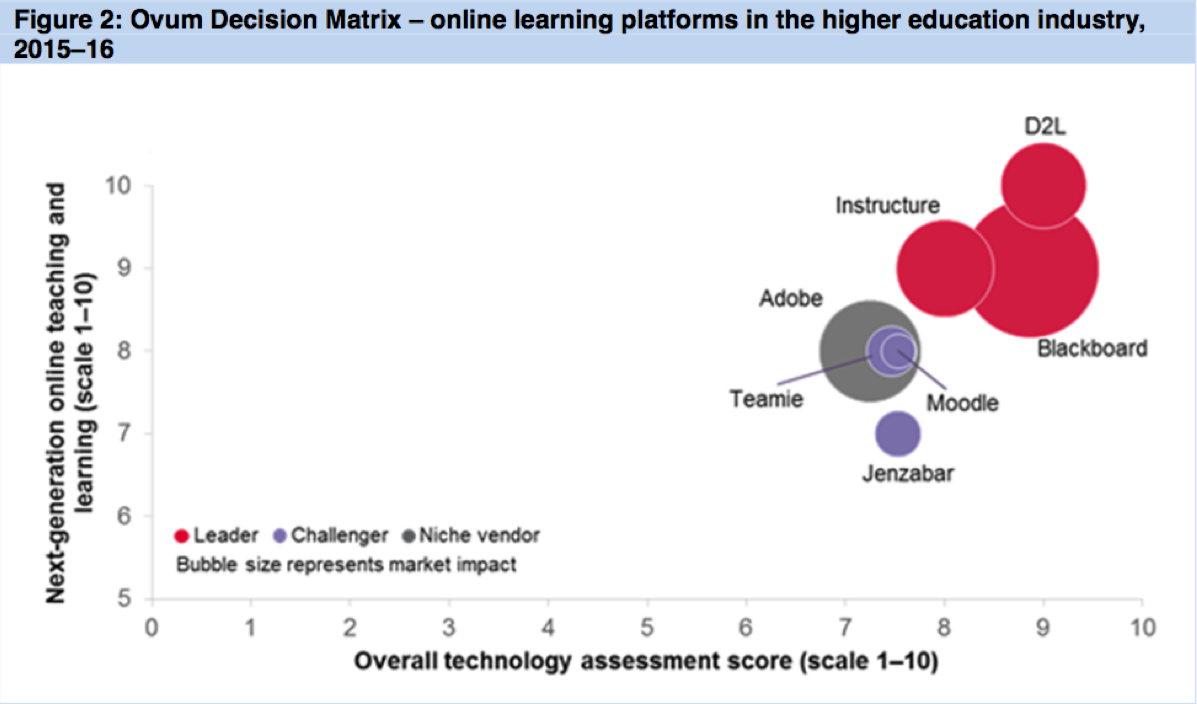 Implementation & Migration
So after all the formal and legal stuff around the tender, now we can start the actual work. We have formed a great team of people from D2L and TU Delft that will run the project under the project management of Erna Kotkamp. We are very lucky we have someone as Erna in our team. With her passion, drive, skills and eye for detail, I'm convinced this will be a successful project that will give our lecturers and students a platform for the next ten years.
Update 30 June: Stand-still period has ended and the contract is signed.