EDEN award for TU Delft Online Learning Experience
This week I'm attending the EDEN annual conference in the beautiful Budapest. Nelson Jorge, Sofia Dopper and me wrote a paper about the TU Delft Online Learning Experience. This is a pedagogical model that supports the development of our courses and strives for increasing quality. The creation of the OLE was an important step for TU Delft, contributing to the development of online courses in a more systematic and consistent way, guiding all course development teams through the realisation of several shared educational principles.
At the Gala Diner of the conference we received the EDEN 2016 Best Practice Inititative Award for our paper. The award is not just for the paper but for the whole initiative of designing the model and implementing it for our courses. I see it as a great appreciation for the work we are doing with the TU Delft Extension School.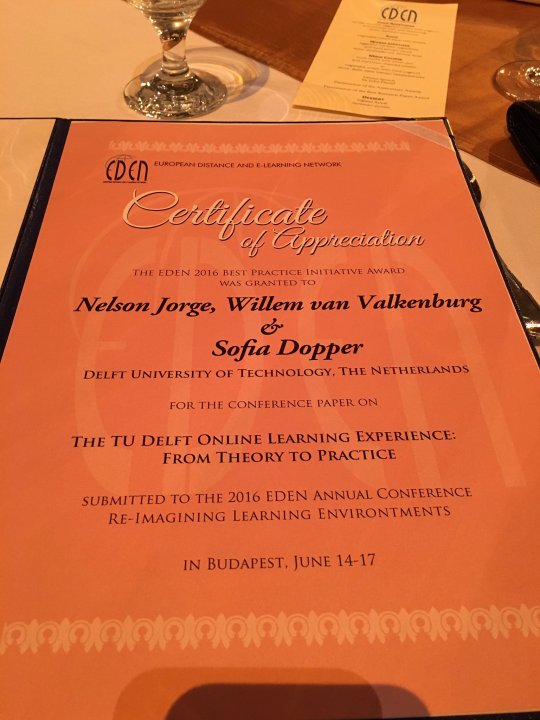 Online Learning Experience model
The OLE holds 8 principles to support course teams in the design and development of online courses. The model was elaborated based on the foundations established by distance learning experts (Moore, 1991; Keegan, 1996; Palloff & Pratt, 1999; Garrison, 2000; Peters, 2000; Anderson, 2003; Garrison & Anderson, 2003; Salmon, 2011; Salmon, 2013; Bates, 2015) and the know-how of the TU Delft Online Learning Course Development Team.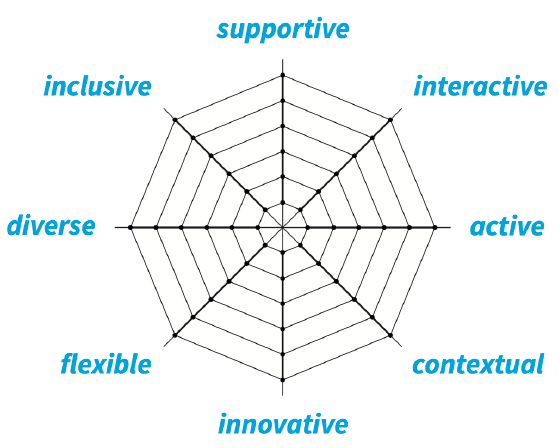 Paper
The paper is part of the conference proceedings of the EDEN 2016 conference. Here you can download our paper:
eden_2016_budapest_proceedings-tudelft-ole.pdf
Please reference:
Jorge, Nelson; Van Valkenburg, Willem; Dopper, Sofia (2016). The TU Delft Online Learning Experience: From Theory to Practice in Teixeira, Szucs and Mazar (2016). Conference Proceedings EDEN 2016 Annual Conference. ISBN 978-615-5511-10-3. License CC-BY 4.0
 Presentation
Here is the presentation Nelson presented at the conference.
 And the link to the model explaining all the principles. Below is the video of teacher's perspective of Online Learning Experience