OER sustainability framework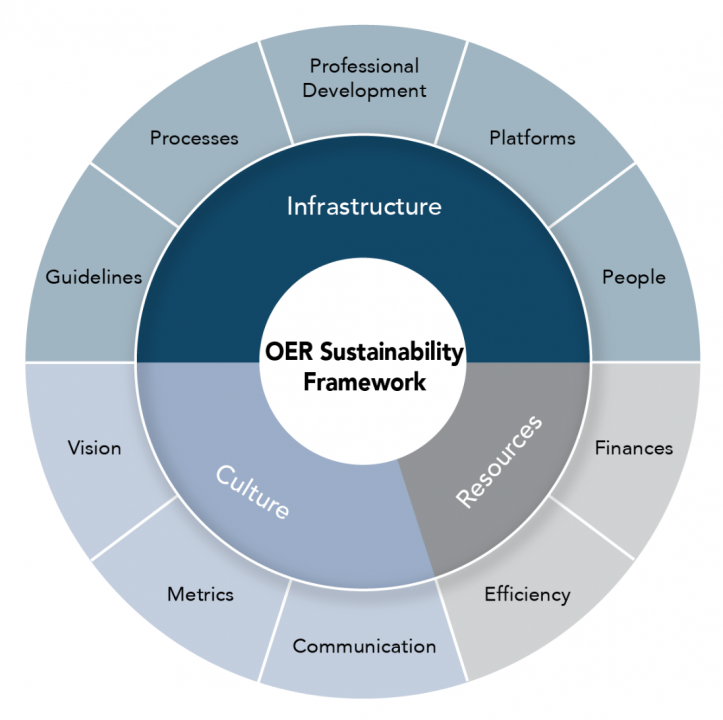 SUNY OER Services has published an interesting framework on OER sustainability:
This OER Field Guide provides information and resources to help colleges and universities implement sustainable OER programs on their campuses. Although "sustainability" is often interpreted as the financial resources necessary for continued support, it actually requires a broader conceptualization of resource requirements. The Guide presents a comprehensive OER framework built around ten individual components. When implemented as a coordinated system of integrated activities, it positions colleges and universities to sustain OER well beyond their current state or grant funding initiatives.
The OER Field Guide is organized around three core components of the sustainability framework:
Infrastructure – Building the campus guidelines, processes, and capabilities necessary to support OER;
Resources – Identifying the dollars or staff time required to support the work, as well as opportunities to conserve resources through efficiency improvements;
Culture – Using OER to support broad institutional visions and goals, including measuring and communicating OER successes.
The framework shows many similarities with the European OpenEdu framework.
The OER field guide contains many good examples, although they are very US focused.
Image is CC-BY-NC-SA SUNY