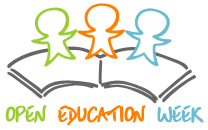 In de week van 5 tot 10 maart wordt de eerste wereldwijde Open Education Week georganiseerd. Het doel van de week is om meer bekendheid te geven aan de voordelen van het open delen binnen het onderwijs en dan specifiek open leermaterialen. Tijdens de week organiseren meer dan 120 organisaties wereldwijd evenementen, zowel offline als online. Alle evenementen zijn natuurlijk gratis en open voor iedereen.
Natuurlijk doen wij hier in Nederland hier ook actief aan mee en dan vooral OpenUniversiteit, Wikiwijs, Surf en de TU Delft. Enkele evenementen die wij organiseren of een bijdrage aan leveren:
Lancering OER-trendrapport op 5 maart
De Special Interest Group Open Educational Resources (OER) heeft twaalf Nederlandse OER-experts (daar ben ik er één van) gevraagd een artikel te schrijven over trends op hun vakgebied. Op maandagochtend 5 maart verschijnen deze artikelen gebundeld in het OER-trendrapport 2012 op SURFspace.


Mediacall 5 maart Why Open Education Matters
Er wordt een mediacall georganiseerd in de VS. Hier kunnen journalisten op inbellen en krijgen ze van de verschillende sprekers een introductie en vervolgens gelegenheid om vragen te stellen. De deelnemers aan de call zijn Martha Kanter (Under Secretary of Education in VS), Cable Green (Director Global Learning Creative Commons) Richard Baraniuk (founder Connexions, Rice University) en Anka Mulder (Secretaris van TU Delft en President of OpenCourseWare Consortium)


Open Education Week Event in Delft op 7 maart
Dit evenement organiseer ik zelf en heb ik hier al over geblogd.


Webinar 'Social Entrepreneurship Learning' op donderdag 8 maart
Tijdens dit webinar vertelt Jos Rikers (Open Universiteit) over het Social Entrepreneurship project, dat hoogwaardige open leermaterialen over ondernemerschapsvaardigheden wil ontwikkelen, en gaat hij met de deelnemers in gesprek over de aanpak.


Workshop 'Wikiwijs en het hoger onderwijs: wat wil de docent?' op 9 maart
Tijdens deze workshop maakt u kennis met Wikiwijs, het online platform waarop docenten open leermaterialen kunnen vinden, maken en delen. De wensen en ideeën van de deelnemers zijn input voor de doorontwikkeling van Wikiwijs. meer informatie en inschrijven
Wereldwijd zijn er nog veel meer evenementen, kijk hiervoor op de website van de Open Education Week. Komend weekend komt de nieuwe website online met alle evenementen erop.