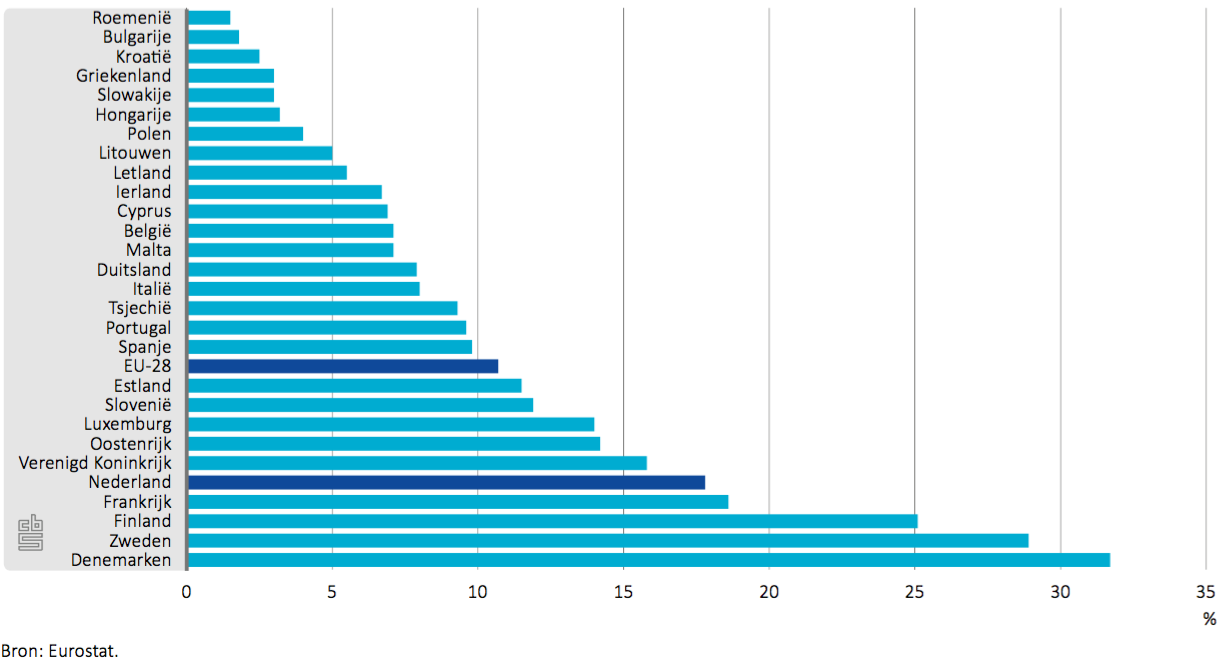 Vandaag verscheen er een rapport van het CBS over een leven lang leren (LLL) in Nederland. De auteurs Astrid Pleijers en Marijke Hartgers hebben op basis van de CBS-data onderzoek gedaan naar leven lang leren in Nederland en in  vergelijking met andere EU-lidstaten. Hun conclusie is dat Nederland goed scoort qua deelname aan LLL vergeleken met andere EU-staten. Dit is een opvallende conclusie die niet strookt met de politieke opvattingen op dit gebied. Dus ben ik eens gaan kijken waar nu dat verschil in perceptie vandaan komt.
Definitie van LLL:
Leven lang leren volgens de Europese indicator bevat in principe al het onderwijs dat wordt gevolgd door personen van 25 tot 65 jaar. Hieronder vallen bijvoorbeeld werkgerelateerde opleidingen of workshops, maar ook initiële opleidingen in het geval van langstudeerders, of cursussen gevolgd in vrije tijd, variërend in duur, tellen mee.
In de Nederlandse politiek wordt vooral gekeken naar volledige (deeltijd)opleidingen die leiden tot een diploma. Dat zie je ook terug in stimuleringsmaatregelen:
De overheid stimuleert volwassenen om te blijven leren, ook als ze al een baan hebben. Onderwijsinstellingen in zowel het hoger onderwijs als het middelbaar beroepsonderwijs krijgen meer ruimte om maatwerk te leveren, onder meer via experimenten met vraagfinanciering, pilots van flexibele opleidingstrajecten en de introductie van certificaten in het mbo.....
Deze maatregelen richtingen zich op publieke onderwijsinstellingen die zich voornamelijk bezig houden met volledige opleidingen. In deze definitie is te zien dat ze het begrip veel breder opvatten. Dit sluit wat mij betreft veel beter aan bij de praktijk van een lerende. Iemand die fulltime werkt volgt zeker losse workshops en cursussen, maar vaak niet een hele opleiding.
Van alle personen van 25 tot 65 die in 2014 deelnamen aan LLL deed 16% een opleiding of cursus die bekostigd wordt door de overheid (minOCW en EZ). Van de 16% is ook nog de grootste groep onder de 30, oftewel een langstudeerstudent die nog bezig is met zijn/haar initiële opleiding.
Qua definitie geven de auteurs ook aan dat informeel leren op dit moment buiten de Europese indicator valt. De auteurs geven terecht aan dat dit een significant gedeelte van het leren van een werkende is.
De conclusie die de auteurs trekken is dat deelname aan LLL vooral plaats vind onder een selectieve groep in de bevolking, namelijk in een bedrijfssector waar verplichte bij- en nascholing is, zoals advocaat, huisarts, medisch specialist.
Conclusie
Als ik het rapport zo lees dan kan ik niet anders concluderen dan dat de politiek LLL veel te beperkt opvat. Internationaal zie ik de trend naar korte (online) cursussen en informeel leren, zoals met MOOCs. De politiek blijft nog veel te veel hangen op sturing via de publieke instellingen, terwijl het steeds meer de individuele lerende is in zijn werkomgeving bepaald welke cursus hij gaat doen. Het gaat de lerende om het vergaren van de kennis en niet om het certificaat of diploma.