Gisteren staat er in de Volkskrant een artikel over hoogleraar Jan Derksen die zegt dat hoorcolleges uit de tijd zijn en dat universiteiten zouden moeten 'fuseren met het internet':
"Studenten worden steeds meer gepamperd met 'competentiegericht onderwijs' en 'leerdoelen'. Zelf noemen ze dit kleuterbouwwerk al 'school'. En gelijk hebben ze, want de universiteit is veel te schools geworden..."

"Geef studenten de vrijheid om hun eigen interesses na te jagen. Colleges kunnen het internet op. Toetsen kunnen ook online worden afgenomen. Leuke bijkomstigheid is dat er flink kan worden bezuinigd op managers en gebouwen."

"Natuurlijk, als je stopt met pamperen vallen er heel veel studenten af. Maar dat is helemaal niet erg, er zijn er toch veel te veel. Als studenten langer willen studeren is dat prima, maar dan wel op eigen kosten."

".. ik vrees de kooi waarin zelfs de beste honoursstudenten als baby's worden behandeld. Nu moeten ze zich aan alle eisen houden die van bovenaf zijn verordonneerd. Hun nieuwsgierigheid wordt aan banden gelegd. Dat heeft niets met wetenschappelijke vooruitgang te maken. Natuurlijk, de hoogleraar zal altijd een gids blijven. Professoren zouden sowieso meer op didactische kwaliteiten moeten worden geselecteerd. Dat gebeurt nu veel te weinig."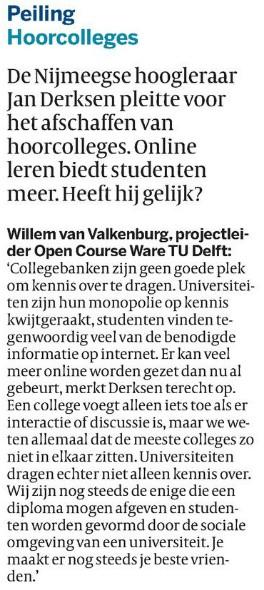 Ik ben het eens met deze hoogleraar en mijn reactie stond vanochtend in de Volkskrant (alleen toegankelijk met account). Screenshot van mijn reactie staat hier rechts. De meeste colleges zijn de afgelopen jaren weinig veranderd. Ze gaan nog sterk uit van het feit dat de universiteit het 'monopolie' heeft op kennis en informatie. Dit is in de 21ste eeuw zeker niet meer het geval. Vrijwel alles is tegenwoordig op internet te vinden. Ook fantastisch onderwijsmateriaal, zoals Khan Academy, MIT OpenCourseWare, TED ED, YouTube EDU en natuurlijk TU Delft OpenCourseWare.
Docenten zouden hun colleges meer op interactie, discussie, en reflectie moeten richten en minder op kennisoverdracht.
Er zal altijd ruimte blijven voor inspirerende docenten. Uit mijn eigen studententijd kan ik me natuurlijk de colleges van De Bruijn en Ten Heuvelhof nog goed herinneren of de colleges van Wim Dik. Dit zijn echter de uitzonderingen, de meeste colleges weet ik echt niks meer van.
Zoals Jeroen Jansen en Pedro de Bruyckere ook schrijven heeft het onderwijs behoefte aan goede docenten, die op zoek blijven gaan naar manieren om hun studenten te inspireren en te motiveren. Hierbij gebruik makend van de mogelijkheden die beschikbaar zijn, zowel online als offline.
Ook in de online wereld, geldt de regel "a good teacher is a good teacher with any tool".
Aanvulling 4 januari:
Vandaag staat er in de Volkskrant ook een reactie van een student en die sluit volgens mij uitstekend aan bij mijn blog. Studente Eva van Gemert schrijft dat als hoorcolleges geen waarde toevoegen aan de opgegeven leerstof, dan kunnen ze beter worden afgeschaft.
Een hoorcollege moet inspireren en motiveren, zoals TU Delft-professor Witteveen ook schrijft in een column (pag 5) in MACHAZINE (blad van de studievereniging Christiaan Huygens). Zijn argument dat het geven van hoorcolleges leuk is gaat volgens mij lang niet voor alle docenten op. Als student merk je dit trouwens wel meteen!
Daar zit precies ook de crux. Er zijn zeker hoorcolleges die waarde toevoegen, maar er zijn ook veel die dat niet doen. Het gaat hier ook niet om een keuze voor één van beiden, maar om de juiste mix van online en offline.