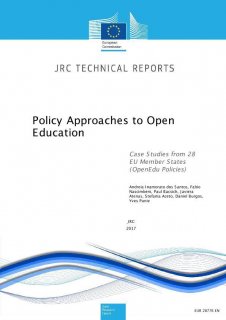 The JRC open education research team has published another interesting report. In this technical report they provide an EU-wide overview of the state of play with policies on open education. 28 member states (MS) are researched:
 The goal of the study Policy Approaches to Open Education in Europe : Case Studies from 28 Member States (OpenEdu Policies) was to find out which specific policies on open education are in place in European countries. At the same time, by eliciting the different perspectives, barriers and challenges to having such specific policies, the study aims to provide evidence that will cont ribute to a greater understanding of the development of open education in Europe. This report accompanies the JRC Science for Policy Report Going Open: Policy Recommendations on Open Education in Europe (OpenEdu Policies ).
They have performed desk research, interviews with relevant persons and integration of all results.